Staff (2018-08-20). Why Is the U.S. Helping Saudis Kill Children in Yemen? truthdig.com The Saudi and United Arab Emirates war on little Yemen, which was launched by Crown Prince Mohamed Bin Salman in March of 2015, has flown under the radar among the U.S. public until a recent bombing.
Yves Engler (2018-08-19). Complicity with Saudi Crimes Limits Canada's Response. globalresearch.ca Governments, like gardeners, reap what they sow. Trudeau's continuation of Harper's Conservative Mideast foreign policy has reaped the current mess with Saudi Arabia. | The Liberal brain trust must be wondering, "what ...
RT (2018-08-19). Syria stabilization fund was ridiculous, let the Saudis pay it, Trump says. rt.com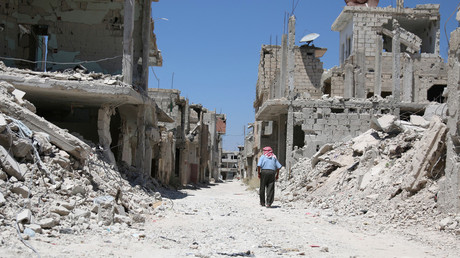 US President Donald Trump has praised Washington's cancellation of $230mn in funding for stabilization in war-torn Syria. Let "other rich countries" pay it, Trump says, while the US spends its money on its military and allies.
Read Full Article at RT.com
Daryan Rezazad (2018-08-17). Iran And The Doomsday Machine. iranian.com In Stanley Kubrick's masterpiece, "Dr. Strangelove", any mention of the Doomsday Machine was verboten. However, back in May 2018 the intrepid Pepe Escobar, who tends to ignore verboten warnings, presented some raw reality: It's also no secret among Persian Gulf traders that in the — hopefully unlikely — event of a US-Saudi-Israeli war in Southwest [...]
Robert Fantina (2018-08-17). Yemeni and Palestinian Children. counterpunch.org It seems that much of the civilized world is outraged by the recent U.S.-financed, Saudi bombing of a school bus in Yemen. While U.S. spokespeople have hemmed and hawed and not condemned this atrocity, few outside of the U.S. have been so hesitant. How anyone can countenance the bombing of a clearly marked school bus More
Jocelyn Dombroski (2018-08-16). Saudi-Canada Diplomatic Row Obscures Canada's Support for the Deadly War on Yemen. therealnews.com
Canadian Journalist Anthony Fenton Explains Canada's Extensive Arms Sales to the Saudi Autocracy
James M. Dorsey (2018-08-16). Are The United State And Saudi Arabia Stoking Ethnic Protests In Iran? iranian.com A string of recent incidents involving Iran's ethnic minorities suggests the United States and Saudi Arabia are covertly carrying out plans to destabilize Iran. [dropcap]I[/dropcap]ran has raised the spectre of a US-Saudi effort to destabilize the country by exploiting economic grievances against the backdrop of circumstantial evidence that Washington and Riyadh are playing with scenarios for [...]
Democracy Now! (2018-08-15). Headlines for August 15, 2018. democracynow.org Pennsylvania Priests Abused 1,000 Children and Covered Up the Abuse, Christine Hallquist Becomes First Transgender Major-Party Gubernatorial Nominee, In Minnesota, Ilhan Omar Is Poised to Be First Somali American Elected to Congress, Keith Ellison Wins Democratic Primary for Minnesota Attorney General, Jahana Hayes Poised to Be Connecticut's First Black Woman in Congress, Kansas: Jeff Colyer Concedes to Kris Kobach in Republican Primary for Governor, In Sexist & Racist Attack, Trump Calls Omarosa "Crazed" and a "Dog", Italy: 39 Killed in Bridge Collapse in Genoa, Yemen: 13 Reportedly Killed by Airstrikes in Hodei...
Democracy Now! (2018-08-14). Headlines for August 14, 2018. democracynow.org Economists Fear Turkish Financial Crisis Could Spread, Thousands Attend Funeral of 40 Yemeni Children Killed in Saudi Airstrike, Car Drives into Security Barrier at UK Parliament, Three Injured, Trump Signs $716 Billion Military Spending Bill; Includes $21 Billion for Nuke Program, State of Virginia Confirms Immigrant Teenagers Were Strapped to Chairs With Bags Over Their Heads, Stephen Miller's Uncle: My Nephew Is an "Immigration Hypocrite", U.N. Official: Trump's Attacks on Press Are "Very Close to Incitement to Violence", Firefighter Dies Battling Mendocino Complex Fire, DNC Lifts Ban on Fossil Fuel Company Do...
Democracy Now! (2018-08-14). 40 Yemeni Children Dead by U.S.-Made Bomb? Outrage Mounts Over U.S. Role in Airstrike on School Bus. democracynow.org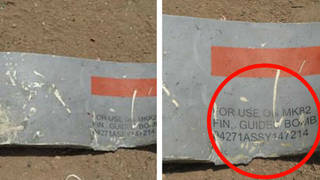 Thousands of mourners gathered in Yemen's northern city of Saada Monday for the funerals of 51 people, including 40 children, who were killed in a U.S.-backed Saudi-led coalition airstrike on a school bus last week. The massacre of school boys between the ages of 6 and 11 was one of the worst attacks on children in the history of Yemen's brutal war. Images posted online suggest a U.S.-built Mark 82 bomb was used in the bombing. We speak with Shireen Al-Adeimi, a Yemeni scholar and activist and an Assistant Professor at Michigan State University. Her latest piece for In These Times is titled "Fine Print in Defense...
Democracy Now! (2018-08-14). AP Investigation: Behind the Scenes in Yemen, U.S.-Backed Saudi Coalition Is Working with al-Qaeda. democracynow.org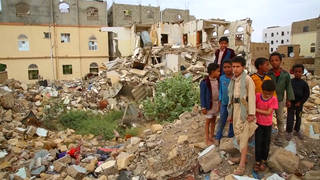 The U.S.-backed Saudi-led coalition in Yemen has repeatedly cut secret deals with al-Qaeda, even paying its fighters to retreat from towns or join the coalition, a bombshell Associated Press investigation has revealed. The AP probe accuses the United States of being aligned with al-Qaeda in the fight against Yemen's Houthi rebels, despite claiming to be fighting the extremist group in the region. One senior tribal leader told the AP, "Al-Qaeda wasn't defeated. It didn't fight in the first place." We speak with Maggie Michael, one of the three reporters for the Associated Press who broke the story, headlined "U.S.
Hezvo Mpunga (2018-08-13). Yemeni Children Massacred With US-Made Bomb. therealnews.com
Thousands have gathered in Yemen for the funerals of the 51 people killed in a Saudi-UAE-US military alliance airstrike, including 40 children traveling on a school bus. Even after a Raytheon-made MK-82 bomb was found in the wreckage, Defense Secretary James Mattis told said that the US is "not engaged in the civil war." We...
Kathy Kelly (2018-08-10). The U.S. Is Complicit in Child Slaughter in Yemen. progressive.org On August 9, a U.S.-supported Saudi airstrike bombed a bus carrying schoolchildren in Sa'ada, a city in northern Yemen.
Democracy Now! (2018-08-09). Headlines for August 9, 2018. democracynow.org Saudi-Led Airstrike in Yemen Hits Bus Carrying Children, Killing Dozens, U.S. Airstrike in Afghanistan Kills a Dozen Afghan Soldiers "By Mistake", Israeli Airstrikes Kill Three in Gaza, Including Mother and Her Toddler, In Colombia, Nikki Haley Escalates Anti-Venezuela Rhetoric, U.S. to Impose New Sanctions on Russia, Senate Committee Asks Julian Assange to Testify About Russian Meddling in Election, Virginia & Charlottesville Under States of Emergency Ahead of White Supremacist Rallies, Longtime DRC Leader Joseph Kabila Will Not Run for Re-election, Argentine Senate Rejects Legislation to Legalize Abortion, NY C...
Democracy Now! (2018-08-07). Headlines for August 7, 2018. democracynow.org U.S. Reimposes Sanctions Against Iran, Brazil's Workers' Party Nominates Lula as Presidential Candidate, Rick Gates Testifies He and Manafort Committed Crimes, Voters Head to Polls in Missouri, Kansas, Michigan & Washington State, Tennessee Democrats Celebrate "Blue Wave" That Swept Shelby County, Massive Student Protests Sweep Bangladesh Demanding Safer Roads, Canada Criticizes Saudi Arabia over Arrest of Feminist Activists, Mendocino Complex Now Largest Fire in California History, Social Media Platforms Remove Alex Jones, Citing Hate Speech, The Dream Defenders Organize National Protests Against GEO Group, Gunm...
Last Process: 15 Citations 2018-08-20 16:27:45 GMT (10:29 MDT)