WSWS (2019-02-16). Award-winning journalist Chris Hedges endorses Free Assange demonstrations in Australia. wsws.org "It is imperative that we pressure the Australian government to make sure its citizen, Julian Assange, is protected from the lawlessness of the American empire."
WSWS (2019-02-16). SEP national secretary James Cogan participates in Unity4J discussion on the defence of Julian Assange. wsws.org Cogan explained why the SEP has called demonstrations demanding the freedom of Julian Assange, as well as the broader campaign by the WSWS against internet censorship.
amnesty (2019-02-15). Equatorial Guinea: Rights lawyer faces bogus charges. amnesty.org Grave Concern Detainees Have Been Tortured, Killed | Equatorial Guinea named a French anti-corruption lawyer in an arrest warrant against 16 people, in apparent retaliation for his involvement in a money laundering trial against the president's eldest son, nine human rights and anti-corruption groups said today. | The warrant accuses the 16 targets of laundering money and helping to finance "terrorism and the proliferation of arms trafficking in Central Africa." | Named in the warrant are also people already in police custody accused of participating in a December 2017 coup attempt. They have been unable to commu...
Consortiumnews (2019-02-15). Watch Webcast of 17th Assange Vigil. consortiumnews.com The 17th vigil for Julian Assange, now a weekly event every Friday, was aired today on Consortium News. Watch the replay here. The Unity4J vigils will continue until Assange is free. The guests were Garland Nixon, James Cogan, Elizabeth Vos,... Read more →
STAFF (2019-02-15). The FBI Is Dismantling Its War Crimes Unit. truthdig.com The FBI is dismantling a special unit that investigates international war crimes and hunts down war criminals — including suspected torturers and perpetrators of genocide, Reveal from The Center for Investigative Reporting has learned. | The unit, which was created a decade ago and has its roots in federal efforts to hunt Nazis living in the United States after World War II, has had a hand in many high-profile prosecutions. | Most recently, its investigators helped take down the Liberian warlord Thomas Woewiju, whom a...
Democracy Now! (2019-02-14). Roberto Lovato: Elliott Abrams Is Bringing Violence of 1980s U.S. Latin America Policy to Venezuela. democracynow.org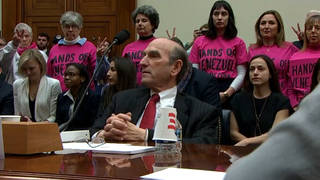 President Trump met with Colombian President Iván Duque at the White House Wednesday to discuss ongoing efforts to topple the Venezuelan government, the same day that U.S. special envoy to Venezuela Elliott Abrams faced questioning from Congress about his role in atrocities carried out in Latin America in the 1980s. This includes defending Guatemalan dictator General Efraín Ríos Montt's campaign of mass murder and torture of indigenous people. We speak with Roberto Lovato, independent journalist working out of the San Francisco Writers' Grotto, about the violent history of Elliott Abrams and the U.S.-backed oppos...
Human Rights Watch (2019-02-14). Egypt: Set Independent Torture Inquiry. hrw.org
| | Egyptian policemen secure Egypt's national police academy. | © 2015 AP Photo/Amr Nabil | (Beirut) — The Egyptian authorities' failure to end or impartially investigate torture and mistreatment in detention facilities reinforces an urgent need for an independent international inquiry, Human Rights Watch said today. As a party to the United Nations Convention Against Torture, Egypt should also allow the United Nations special rapporteur on torture an...
amnesty (2019-02-14). The world has not forgotten the women detained and tortured in Saudi Arabia. amnesty.org We all have that one person we immediately connect with. Someone who you know will always be part of your life. The person you can easily talk to, even though it has been months if not years since you last saw one another. For me, Eman Al Nafjan is such a person. Someone I am proud of, who inspires and makes me laugh. | We met in 2010 while I was living in Saudi Arabia. Eman introduced me to Saudi culture and cuisine, and taught me useful Arabic phrases. She took me around the magical souks in Riyadh. |
Yanis Varoufakis (2018-11-29). On Julian Assange and the Political Economy & future of Europe. zcomm.org Interview on the socio-economic transformations taking place within the core of the European Union and how much time is left until it disintegrates...
Chris Hedges (2018-11-26). Crucifying Julian Assange. zcomm.org Chris Hedges and Joe Lauria, journalist and editor-in-chief, Consortium, discuss efforts to force #WikiLeaks publisher, #JulianAssange, out of the Ecuador Embassy in London and extradite him to the USA to stand trial.
PEDRO (2018-12-06). Palestinians and Brazilians Call For Joint Struggle Against Israel-Bolsonaro Alliance. bdsmovement.net
Palestinians and Brazilians Call For Joint Struggle Against Israel-Bolsonaro Alliance: BNC StatementWhile Brazil's new president wants to follow in the footsteps of Donald Trump moving the Brazilian embassy to Jerusalem, and Rio de Janeiro's new governor wants to buy Israeli weaponized drones, Palestinian and Rio de Janeiro's favelas' social movements call for a joint and global struggle agains...
Last Process: 11 Citations: 2019-02-16 15:47 GMT (10:48 EST)