South Front (2018-10-20). Video: ISIS Captures 700 Hostages Including US, EU Citizens. globalresearch.ca ISIS has captured 700 hostages, including US and European citizens, in Syria and is killing 10 people a day, Russian President Vladimir Putin said during the Valdai Discussion Club's 15th Annual Meeting on October 18. He criticized US forces for ...
RT (2018-10-20). Trump vows to pull US out of 'unacceptable' nuclear missile deal with Russia. rt.com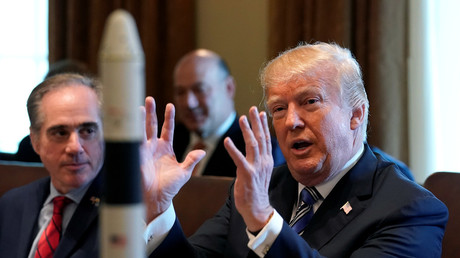 The US will pull out of the Intermediate-Range Nuclear Forces Treaty (INF) with Russia, AP reports President Donald Trump saying. He cited Russia's alleged treaty violations, while at the same time vowing to "develop the weapons."
Read Full Article at RT.com
Consortiumnews (2018-10-20). Report Says Russia-gaters Should Go Quietly in the Night. consortiumnews.com After more than two years of mania about Russia stealing the 2016 election for Trump and demonization of anyone who questioned it, an embarrassing end may soon be near for the Russia-gaters, says Caitlin Johnstone. By Caitlin Johnstone In a... Read more →
Dan Bacher (2018-10-21). Trump signs memo to send more water to San Joaquin Valley agribusiness. indybay.org "Western water mismanagement has been horrendous for commercial, recreational, and guide fisheries in California," said Pacific Coast Federation of Fishermen's Associations (PCFFA) executive director Noah Oppenheim in a statement. "Water users have sucked our rivers dry for far too long, and the fish have been paying the price."
RT (2018-10-20). As Bolton heads to Moscow, US charges another Russian with 'election meddling'. rt.com
The Department of Justice has charged a Russian national with conspiring to interfere in the 2016 and upcoming 2018 elections, in an indictment released just one day before crucial meetings between US and Russian officials.
Read Full Article at RT.com
Pepe Escobar (2018-10-20). What Sanctions on Russia and China Really Mean. globalresearch.ca A crucial Pentagon report on the US defense industrial base and "supply chain resiliency" bluntly accuses China of "military expansion" and "a strategy of economic aggression," mostly because Beijing is the only source for "a number of chemical products used ...
wsws (2018-10-20). US charges new Russian conspiracy to interfere in midterm elections. wsws.org The charges have been released without the slightest evidence, but have immediately been accepted as gospel and amplified by the American media.
Jason Ditz (2018-10-20). US, Israel Send Secret Delegation to Ukraine to Train Against S-300. globalresearch.ca The US and Israeli militaries recently sent a secret delegation to Ukraine to test the capabilities of the Russian-made S-300 air defense systems. Ukrainian military officials explained the limitations of the systems. | The sudden interest in the S-300 is ...
Jason Ditz (2018-10-20). John Bolton Pushes Trump to Withdraw From Russian Nuclear Treaty. theantimedia.com
(ANTIWAR.COM) — Years of US allegations that Russia is violating the Intermediate Nuclear Forces Treaty (INF) may be coming to a head, with John Bolton reportedly pushing hard for President Trump to withdraw outright from the pact. Instead of negotiating over the questions, Bolton wants the US to just withdraw outright, despite that being a major escalation on [...]...
Andrew Korybko (2018-10-20). NATO's Upcoming 40,000-soldier Arctic Drill Is a Message to Russia and China. globalresearch.ca NATO's upcoming Trident Junction 18 drill in Norway will be held at the end of the month and is expected to see the participation of 40,000 troops. | The US and its allies have been making a big deal about Russia's ...
Staff (2018-10-20). Trump: U.S. Will Pull Out of Intermediate-Range Nuke Pact. truthdig.com The president claims Russia is violating the pact, which prohibits the U.S. and Russia from possessing, producing or test-flying a ground-launched cruise missile.
Alan MacLeod (2018-10-19). Why Is Russiagate Rumbling Into the 2018 Midterms? fair.org
New Yorker ( 10/1/18) | The November 6 midterms are fast approaching, yet much of the media is still looking back to the 2016 elections, and specifically the alleged Russian interference in them. | The New Yorker ( 10/1/18) published a 7,000-word article headlined "How Russia Help...
Elijah J. Magnier (2018-10-19). Saudi Stops Funding Terror in Syria as the Arab League Prepares to Resume Ties with Damascus: The Time Is Not Yet Ripe for Retaking Idlib. globalresearch.ca The October 15 deadline agreed to by Turkey, Russia and Iran for Turkey to evacuate all heavy weapons and jihadist groups along a 15-20 km demilitarised demarcation line around Idlib and its rural area, including rural Latakia, has come and ...
Nadezhda Azhgikhina (2018-10-19). Russia's Unlearned Lessons From the Failed Revolt of 1993. thenation.com Russia's Unlearned Lessons From the Failed Revolt of 1993...
RT (2018-10-19). Former US nuclear command officer charged with diverting military contracts to her own company. rt.com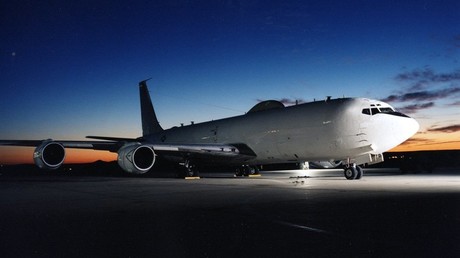 US Navy Captain Heather Cole has been charged with criminal conspiracy after failing to disclose her active-duty military status while negotiating over half a million dollars in defense contracts with her own company.
Read Full Article at RT.com
Karl Grossman (2018-10-19). Irving Like vs. Big Nuke. counterpunch.org Irving Like, an environmental giant in Long Island's Suffolk County, New York State and the United States, has died. Like was instrumental in getting the Shoreham nuclear power plant in Suffolk abandoned; was a key in the successful fight to stop the four-lane highway that New York public works czar Robert Moses sought to build More
wsws (2018-10-19). New York City teachers union attempts to rush through sellout contract. wsws.org The United Federation of Teachers is trying to sell its membership a contract that cuts health care, reduces real wages and maintains poor conditions for students.
Graham Peebles (2018-10-19). Sharing is Key to a New Economic and Democratic Order. counterpunch.org In order to meet the colossal challenges of the time, fundamental change to the socio-economic order is needed. The environmental catastrophe is the major issue, together with armed conflict, potentially nuclear. Both threaten the survival of humanity and the planet, and both are widely ignored by the men and women of power, whose short-term approach, More
Consortiumnews (2018-10-18). AUDIO: Shady Claims by NYT on Russia-gate: Peter B. Collins interviews Gareth Porter. consortiumnews.com Gareth Porter discusses with radio host Peter B. Collins his Consortium News article exposing exaggerated claims of Russian skulduggery on Facebook in 2016. By Peter B. Collins Journalist and historian Gareth Porter returned to the Peter B. Collins show to discuss his... Read more →
RT (2018-10-18). Treasury official charged with leaking classified info to feed 'Russia meddling' narrative. rt.com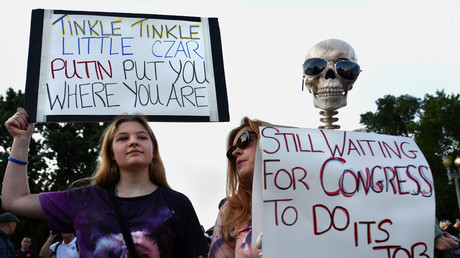 A US Treasury official was arrested and charged with conspiracy for leaking secret banking documents to the press, feeding a everlasting stream of often bogus 'bombshell' reports about Mueller's notorious 'Russian meddling' probe.
Read Full Article at RT.com
RT (2018-10-18). US troops fear new major war is on the horizon, list Russia & China as top threats — poll. rt.com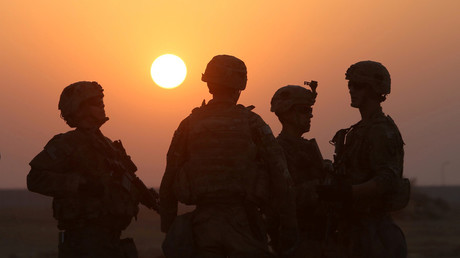 Almost half of military service members believe that the US will be dragged into a new war within the next 12 months, according to a Military Times poll, with Russia and China topping the list of likely nemeses.
Read Full Article at RT.com
Michael Kazin (2018-10-18). Hubert Humphrey and the Unmaking of Cold War Liberalism. thenation.com Hubert Humphrey and the Unmaking of Cold War Liberalism...
Tyler Durden (2018-10-18). Leaked Documents Reveal Julian Assange Planned an Escape to Moscow in 2017. theantimedia.com
(ZHE) — A month after the Associated Press published internal WikiLeaks files which suggested the transparency organization's founder Julian Assange had since 2010 contemplated moving to Russia — outside the reach of US and UK authorities — newly released Ecuadorean government documents have revealed a more elaborate plan to escape to Moscow by using Ecuadorean diplomatic cover. The documents show that the plan was being pursued as [...]...
RT (2018-10-18). Twitter & NATO think tanks publish database of tweets, pics... and GIFs by 'Russian trolls'. rt.com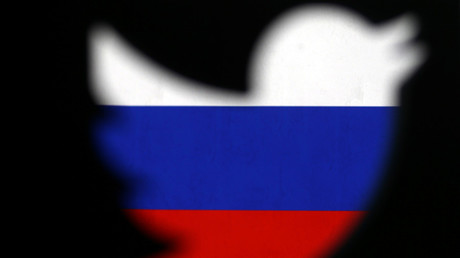 Ahead of midterm elections, Twitter has reminded Americans that democracy is still under threat by releasing millions of tweets by pesky Russians (and Iranians) from the past decade. How do they know? Well, that's the question.
Read Full Article at RT.com
Democracy Now! (2018-10-18). Headlines for October 18, 2018. democracynow.org Saudis Transfer $100 Million to U.S. as Khashoggi Killing Crisis Deepens, Hurricane Michael Death Toll Tops 30 as Rescue Efforts Continue, Trump Asks Federal Agencies to Slash 5 Percent from Budgets as Deficit Swells, Canada Becomes 2nd Country to Legalize Recreational Marijuana, Crimea: Student Gunman Kills 19, Injures Dozens at School Shooting, CNN: Russia Building Up Military Installations in Baltic Sea, Israeli Forces Bomb Gaza, Killing One and Injuring a Dozen Palestinians, Ethiopia: Women Make Up 50 Percent of New Cabinet, DRC: Dozens Killed as 200,000 People Expelled from Neighboring Angola, Chicago Releas...
Stephen F. Cohen (2018-10-17). Inconvenient Thoughts on Cold War and Other News. thenation.com Inconvenient Thoughts on Cold War and Other News...
amnesty (2018-10-17). Russia: Repressive law on public assemblies used to arbitrarily detain anti-corruption lawyer. amnesty.org Responding to this morning's arbitrary detention by Russian police of Aleksandr Golovach, a lawyer for the Anti-Corruption Foundation, on spurious charges of breaking a repressive law on public gatherings months ago, the Director of Amnesty International's Russia office Natalia Zviagina said: | "The detention of Aleksandr Golovach is the latest example of the Russian authorities' ongoing crackdown on human rights defenders and activists and illustrates how they will resort to any excuse to target those who dare to criticise them. | "This case reveals that Russia's repressive law on public assemblies is not only b...
amnesty (2018-10-15). Russia: Amnesty researcher abducted and subjected to mock executions in Ingushetia. amnesty.org An Amnesty International researcher sent to observe demonstrations in the Ingushetian capital Magas was abducted, beaten and subjected to terrifying mock executions by men claiming to be members of the security services. | Oleg Kozlovsky, a Russian national working as a researcher for Amnesty International, arrived in Magas on 5 October to monitor ongoing peaceful protests against the border agreement recently signed by the leaders of Ingushetia and Chechnya. |
RT (2018-10-15). Rogue killers or state murder? Riyadh gets benefit of doubt from Trump where Russia doesn't. rt.com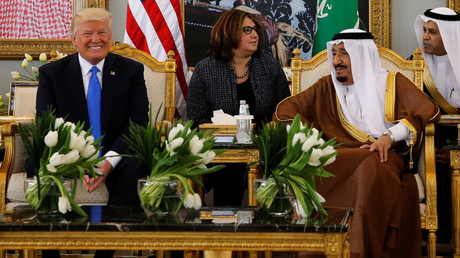 Washington has reacted with uncharacteristic calm following the disappearance of Saudi journalist Jamal Khashoggi. Instead of slapping Riyadh with sanctions and tearing up deals, Trump has refused to pin the blame on anyone.
Read Full Article at RT.com
RT (2018-10-15). The Russian connection? Banned Facebook pages were featured on 2016 'blacklist'. rt.com
A host of alternative news pages banned by Facebook last week were first featured on the PropOrNot blacklist in 2016 — a list of "Russian propaganda" sites that was compiled with little evidence and called "McCarthyite." |
Read Full Article at RT.com
Democracy Now! (2018-10-12). Headlines for October 12, 2018. democracynow.org Hurricane Michael Flattens Florida Towns as It Rips Through Southeast, Turkish Gov't Says It Has Video Evidence of Khashoggi's Murder at Saudi Consulate, President Trump Rejects Calls to Cut Off Arms Sales to Saudi Arabia, Report: Trump Administration Separated 6,000 Families in 4 Months, AP: U.S. Army Discharged 500 Immigrant Recruits, Kanye West Praises Trump During 10-Minute Oval Office Tirade, Pop Star Taylor Swift Tells Fans to Vote in Midterms, Washington Archbishop Resigns Amid Growing Church Sex Abuse Crisis, Syrian Rebels Withdrawing Heavy Weapons from Idlib Under Turkey-Russia Deal, HRW: Egyptian-Americ...
Democracy Now! (2018-10-10). Rashid Khalidi: From Iran to Palestine, Nikki Haley Put a Nice Face on Trump's "Horrific" U.S. Policies. democracynow.org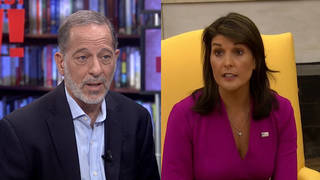 U.S. Ambassador to the United Nations Nikki Haley has announced she is resigning her post at the end of the year. The former South Carolina governor—one of the few women in Trump's Cabinet—gave no reason for her departure. During Nikki Haley's time as U.S. ambassador to the United Nations, the United States withdrew from the Paris climate accord; the U.N. Human Rights Council; the Iran nuclear deal; UNRWA, the U.N. agency that provides humanitarian aid to Palestinians; and UNESCO, the U.N. educational and cultural agency. We speak with Rashid Khalidi, Edward Said professor of Arab studies at Columbia...
Democracy Now! (2018-10-09). 2017 Nobel Peace Laureate: Amid Talks with North Korea, It's Time for U.S. to Abandon Nukes, Too. democracynow.org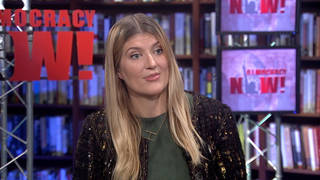 Secretary of State Mike Pompeo met with North Korean leader Kim Jong-un in Pyongyang over the weekend in talks meant to further steps toward nuclear disarmament. Pompeo hailed the meeting as a success, saying both sides were "pretty close" to agreeing to details for a second summit between Kim and President Donald Trump. He also told reporters Kim has agreed to let international inspectors into a North Korean missile engine test facility and nuclear testing site where the country conducted its six nuclear tests. However, Pompeo did not say whether North Korea would allow inspectors to visit a site where the count...
Last Process: 33 Citations: 2018-10-21 09:41 GMT (03:43 EST)