teleSUR/GB (2018-08-20). Ecuadorean City Names Kim Jong-un Honorary Citizen. telesurtv.net North Korea's Independence Day or Day of the Foundation of the Republic is celebrated on September 9, also known as 9/9.
RT (2018-08-19). Not just Russians: China, North Korea & Iran may target US elections, Bolton says without proof. rt.com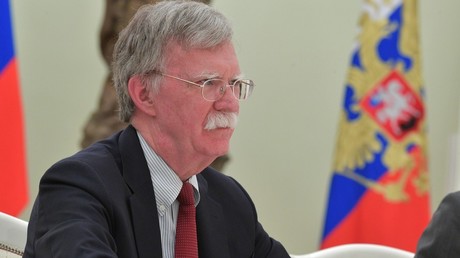 The upcoming 2018 US midterm elections might be targeted by Russia, China, North Korea, and Iran, National Security Advisor John Bolton has warned, while declining to provide any evidence.
Read Full Article at RT.com
Middle East Monitor (2018-08-18). China's Top Diplomat Says Cooperation With Iran To Continue. iranian.com China will continue its cooperation and relations with Iran, state news agency Xinhua reported on Friday, citing a statement from Chinese State Councillor Wang Yi. The Joint Comprehensive Plan of Action (JCPOA), the 2015 deal in which Tehran agreed to curb its nuclear work in return for the lifting of most Western sanctions, is in line with [...]
Juan Cole (2018-08-18). If You Put an Old W. Bush Crony in Charge of Iran Policy, Doesn't It Signal a War-Like Intention? globalresearch.ca Secretary of State Mike Pompeo has appointed Brian H. Hook, the State Department director of policy planning, to head a coordinated "Iran Action Group." | Hook served in several important posts ...
wsws.org (2018-08-17). Seoul and Pyongyang prepare for September summit while US intensifies campaign against North Korea. wsws.org Washington will only accept the complete subjugation of the North as it continues to raise tensions in the region with China.
Elliott Gabriel (2018-08-17). South Korea's Moon Steers Toward Inter-Korean Unity While Wind from Washington Blows in His Face. mintpressnews.com
At the height of U.S. power following Japan's defeat, Washington itself wrote the rules of the game for the Korean Peninsula -- whether others are willing to continue playing along indefinitely remains another question entirely.
Ajamu Baraka (2018-08-17). Opposing Bipartisan Warmongering is Defending Human Rights of the Poor and Working Class. counterpunch.org The decision by Democrat party president Harry Truman to bomb the cities of Hiroshima on August 6 and Nagasaki on the 9thwith the newly developed nuclear weapon signaled to the world that the U.S. was prepared to use military force to back up its new-found position as the leader of the Western colonial-capitalist powers, now More
Middle East Monitor (2018-08-16). Rare Admission: Khamenei Admits Mistake For Permitting Nuclear Negotiations. iranian.com Iranian Supreme Leader Ayatollah Ali Khamenei has admitted he made a mistake in allowing the country's foreign minister to speak to his US counterpart during negotiations that led to a 2015 international nuclear agreement. International sanctions on Iran were lifted when the pact with world powers came into force in 2016, but the expected level of foreign [...]
RT (2018-08-15). US targets Russia and Chinese firms over North Korea sanctions breaches. rt.com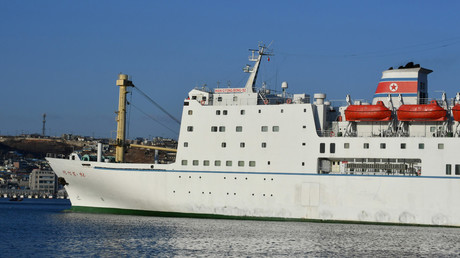 The United States has imposed fresh sanctions on one individual and three entities, including Russia and China-based companies, over breaches related to North Korea sanctions.
Read Full Article at RT.com
RT (2018-08-14). New US military budget halts Open Skies pact, almost axes nuclear arms reduction deal with Russia. rt.com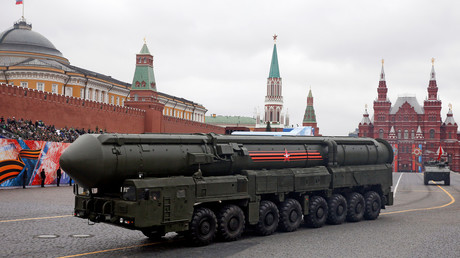 The US has suspended its Open Skies Treaty with Russia after President Donald Trump signed a giant 2019 defense budget bill. Lawmakers also tried to derail a milestone nuclear arms deal that has been in place since 2011. |
Read Full Article at RT.com
Democracy Now! (2018-08-13). Headlines for August 13, 2018. democracynow.org Korean Leaders to Meet Next Month in Pyongyang, On Anniversary of Charlottesville, White Supremacist Rally in D.C. Fizzles, Baltimore Police Officer Resigns After Videotaped Repeatedly Punching Man, Trump to Sign $716 Billion Military Spending Bill with Over $21 Billion for Nuclear Weapons, Afghanistan: Over 200 Killed After Taliban Attacks Critical City of Ghazni, Israeli Forces Shot Dead Gazan Medic Armed with "Bandages & Surgical Masks", U.N.: China Is Detaining Over 1 Million Uyghurs in Massive Internment Camp, Maduro Welcomes FBI to Come to Venezuela to Help Probe Assassination Plot, White House Looks to Sto...
Democracy Now! (2018-08-13). Former Iranian Ambassador: Trump's Reimposed Sanctions Against Iran Are an Act of Warfare. democracynow.org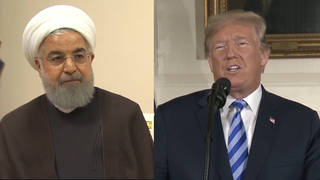 Tensions are escalating between the U.S. and Iran after the Trump administration reimposed economic sanctions against Iran last week. This news followed Trump's decision to withdraw from the Iran nuclear deal. Trump has threatened other countries seeking to trade with Iran, tweeting, "Anyone doing business with Iran will NOT be doing business with the United States." Iranian President Hassan Rouhani condemned the sanctions as "psychological warfare," saying last week he would not begin negotiations until the sanctions are withdrawn. We speak with Ambassador Seyed Hossein Mousavian, Middle East security and nuclea...
Democracy Now! (2018-08-09). 73 Years After U.S. Dropped Atom Bomb on Nagasaki, Survivor Warns About Threat of Nuclear Warfare. democracynow.org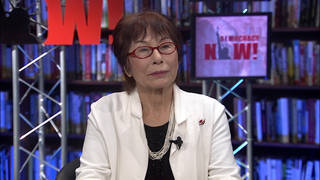 Seventy-three years ago today, on August 9, 1945, the U.S. dropped an atomic bomb on the Japanese city of Nagasaki, killing 74,000 people and forever changing the lives of those who survived the nuclear attack. The bombing came just three days after the U.S. dropped the world's first atomic bomb on the Japanese city of Hiroshima, killing some 140,000 people. For more, we speak with two guests who traveled from Japan to New York City on the Peace Boat—an international boat that sails around the world campaigning for nuclear disarmament and world peace—last month. Terumi Kuramori is a hibakusha—th...
Janine Jackson (2018-08-06). 'There Needs to be a Much Stronger Public Outcry Against the Effort of Undermining the Nuclear Deal'. fair.org
Janine Jackson interviewed Trita Parsi about the Iran Nuclear Deal for the August 3, 2018 episode of CounterSpin. This is a lightly edited transcript. MP3 Link Janine Jackson: August 5 marks the anniversary of the Gulf of Tonkin incident, when journalists reported official claims about an unprovoked attack by North Vietnam on American destroyers as [...]...
Last Process: 14 Citations 2018-08-20 15:26:24 GMT (09:28 MDT)