Robert Reich (2019-03-21). Robert Reich: Trump's Threats Grow More Ominous by the Day. truthdig.com He's already raised the specter of violence against his political opponents, and things may get worse as Robert Mueller closes in.
Democracy Now! (2019-03-21). Headlines for March 21, 2019. democracynow.org New Zealand Outlaws Military-Style Weapons After Mosque Attacks, "Major Humanitarian Emergency" After Cyclone Pounds Southeast Africa, Three U.S. States Declare Emergencies as Missouri River Swells, Judge Halts Wyoming Oil and Gas Drilling, Citing Climate Change, Radovan Karadzic Sentenced to Life in Prison over Bosnian Genocide, Trump Administration Official Under Fire for Islamophobic Comments, Trump Travel Ban Prohibits Dozens from Attending U.N. Women's Forum, Trump Claims Mueller Report Should Be Made Public, Trump Assails Husband of White House Counselor Kellyanne Conway, Pentagon Watchdog to Probe Acting D...
RT (2019-03-19). Mueller had search warrant for Michael Cohen's emails a year before FBI office raid. rt.com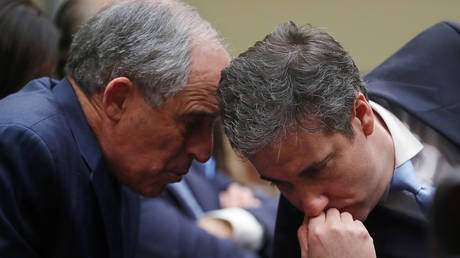 Special Counsel Robert Mueller obtained search warrants to read former Trump lawyer Michael Cohen's emails nearly a year before his office was raided by the FBI, newly unsealed court documents have revealed.

Consortiumnews (2019-03-19). PATRICK LAWRENCE: Why the Dust Won't Settle After Mueller's Report. consortiumnews.com It won't be "full and thorough" and Democrats will continue to look for political payoff from Russia-gate, writes Patrick Lawrence. By Patrick Lawrence Special to Consortium News Last week gave us mounting indications that Robert Mueller has finished his two-year... Read more →
Democracy Now! (2019-03-15). Headlines for March 15, 2019. democracynow.org 49 Dead as Far-Right Shooter Opens Fire on New Zealand Mosques, President Trump Threatens Political Opponents with Violence, Connecticut Court Allows Sandy Hook Parents to Sue Gun Maker, Students Walk Out of Schools to Protest Gun Violence, Senate Rebukes Trump's Border Emergency Declaration, House Votes 420 to 0 to Make Mueller Report Public, Schoolchildren in Over 100 Countries Strike to Demand Climate Action, Swedish Climate Activist Greta Thunberg Nominated for Nobel Prize, NYC to Spend $500 Million Protecting Manhattan from Climate Change, Interior Official Hails Trump for Distracting Media from Drilling Pla...
Democracy Now! (2019-03-14). Impeaching Trump: Pelosi Says It's "Not Worth It," But Progressive Democrats Push Ahead. democracynow.org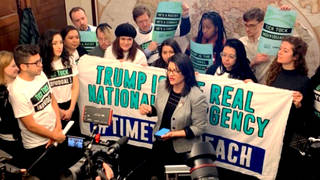 Democratic lawmakers are continuing to push for the impeachment of President Donald Trump, despite House Speaker Nancy Pelosi speaking out against impeachment in an interview earlier this week. Impeachment rumors have been swirling since the Democrats regained control of the House in January. Congressmember Rashida Tlaib of Michigan said last week that she will formally introduce articles of impeachment this month. We speak with John Bonifaz, an attorney and political activist specializing in constitutional law and voting rights. He is the co-founder and president of Free Speech for People, one of the organizatio...

Ralph Nader (2018-12-24). A "Massive Outlaw" zcomm.org Interview on Single Payer, Climate Devastation, Impeachment...

-- Last Process: 7 Citations: 2019-03-22 09:08 GMT (05:08 EST)