RT (2018-11-21). Trump hands over written responses to Mueller's Russia probe questions. rt.com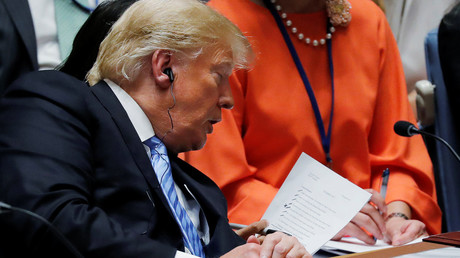 A lawyer for Donald Trump has confirmed that the US President has submitted answers to the questions penned by FBI Special Counsel Robert Mueller's team. The questions refer to the Trump campaign's alleged collusion with Moscow.

Shared by Jocelyn Dombroski (2018-11-17). Mueller Panic Overshadows Jeff Sessions' Final Attack on Police Oversight, People of Color. therealnews.com
Amid concern over what Jeff Sessions' ouster could mean for the Mueller probe, there is very little outcry over Sessions' last-minute move to gut federal oversight of police forces accused of abuses. We speak to ProPublica's Ian MacDougall and veteran Baltimore attorney Billy Murphy. "This emboldens police brutality," Murphy warns
Democracy Now! (2018-11-14). Headlines for November 14, 2018. democracynow.org California Wildfires Kill 50 Across State as Blazes Rage On, Police Arrest 51 Activists Demanding Climate Action from Pelosi, Landmark Climate Lawsuit by Young Activists in Legal Limbo, Pentagon Chief Mattis to Visit 6,000 Troops at U.S.-Mexico Border, Congressional Progressives Appear to Downplay Plans to Abolish ICE, Congressional Race Results Still Uncertain One Week After Midterms, Georgia: Black Woman State Senator Arrested at Peaceful Voter Protest, Fates of Senior Trump Advisers in Doubt After Clashes with FLOTUS, Trump Lawyers Prepare Answers in Mueller Probe, CNN Sues Trump over Acosta Ban, Chicago: Poli...
Democracy Now! (2018-11-13). Acting AG Matt Whitaker Scrutinized over His Radical Judicial Beliefs & Past Dirty Work for GOP. democracynow.org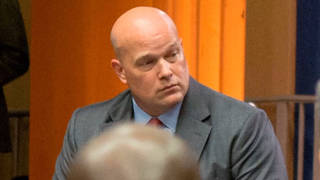 Controversy is growing over President Trump's selection of Matt Whitaker to serve as acting attorney general following the ousting of Jeff Sessions. The state of Maryland is heading to court today to challenge the legality of Whitaker's appointment. The state contends that Deputy Attorney General Rod Rosenstein should have been named acting attorney general instead of Whitaker, who was not confirmed by the Senate for his previous post—chief of staff to Sessions. Meanwhile, pressure is growing on Whitaker to recuse himself from overseeing special counsel Robert Mueller's investigation into Russian meddling i...
Last Process: 4 Citations: 2018-11-21 16:41 GMT (11:41 EST)