David Bacon (2018-08-17). What was the life of this guest worker worth? peoplesworld.org
On Sunday, August 5, a group of 200 farmworkers and supporters began walking at sunrise along the shoulder of Benson Road, heading north from Lynden, Washington, toward Canada. When they reached O Road, the marchers turned right to walk along the border. Unlike the frontier with Mexico, with its walls, floodlights, and patrols, the borderline here is no line at all—simply a road on each side of a weed-choked median. | The procession, chanting and holding banners, passed a succession of blueberry fields for the next 14 miles, finally reaching the official border crossing at Sumas. Pausing for a protest in front of the local immigrant detention center, it then continued on until it reached its objective one mile further on—the 1,500-acre spread of Sarbanand Farms. There, in front of the ranch's packing and warehouse facilities, participants staged a tribunal. | "We are...
RT (2018-08-15). Judge who bailed New Mexico desert camp suspects receives threats to have 'throat slit'. rt.com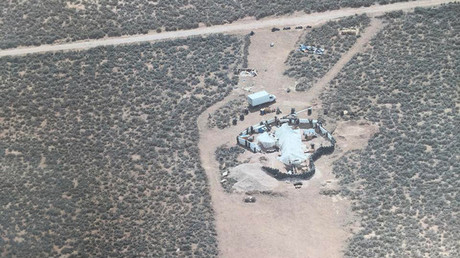 A New Mexico judge has received death threats amid outrage over her decision to grant bail to four adult suspects held in connection to a ramshackle camp, where arms, 11 starving children, and the remains of a child were found.
Read Full Article at RT.com
Democracy Now! (2018-08-15). John Carlos Frey: Deported Parents Say Trump Administration Is Still Separating Families at Border. democracynow.org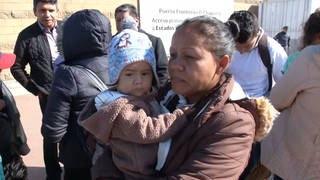 Nearly three weeks after the court-imposed deadline for reuniting families forcibly separated at the U.S.-Mexico border, the Trump administration has admitted that 559 children remain in government custody. More than 360 of these children are separated from parents who have been deported by the U.S. government. Most of the families separated at the border were seeking asylum from violence in their home countries of El Salvador, Honduras and Guatemala. Instead, the parents were charged in federal court with a crime for illegally crossing the border, then held in jail and detention. The children, some still breastf...
Democracy Now! (2018-08-15). Military Cover-Up? 100s of Migrants Feared Dead in Mass Grave at AZ's Barry Goldwater Bombing Range. democracynow.org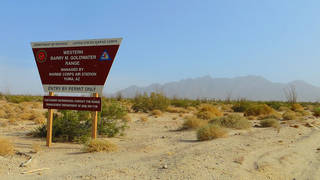 As the Trump administration continues an immigration crackdown at the border, asylum seekers are being told to wait for days or weeks on end before being allowed entry into the United States. This practice is leading more and more immigrants to risk their lives on dangerous journeys through the desert to enter the country instead, says investigative reporter John Carlos Frey. We speak with the Marshall Project reporter about the Barry Goldwater bombing range in Arizona, a vast swath of land across the border from Nogales, Mexico. The area is part of an incredibly dangerous migrant path, but aid workers are not al...
RT (2018-08-14). Abducted boy died in Islamic exorcism ceremony in New Mexico desert, prosecutor says. rt.com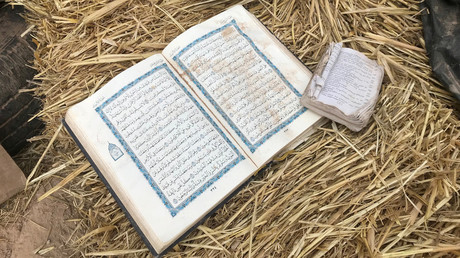 A missing three-year-old boy, whose remains were discovered buried at a compound in the New Mexico desert, had died during an Islamic ritual ceremony to cast out demonic spirits, a prosecutor told a court hearing on Monday. |
Read Full Article at RT.com
RT (2018-08-12). Police brutally smash window and drag man from car for seat belt violation (VIDEO). rt.com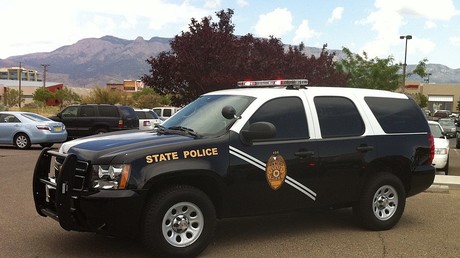 A viral video showing New Mexico State Police smashing a car window and pulling a man from the vehicle sparked outrage online. Officers have responded by releasing their own video of the incident.
Read Full Article at RT.com
James Goodman (2018-08-07). New York Case Shows Cruelty of ICE Toward the Mentally Disabled. progressive.org U.S. Citizenship and Immigration Services has revoked Abigail Hernandez's Deferred Action for Childhood Arrivals (DACA) status, paving the way for deportation to Mexico. "She would be taken advantage of. She would not survive," her teacher says.
TeleSUR English (2018-07-10). Mexico's New FM: Regional Policy on Venezuela Obeys US Agenda. venezuelanalysis.com Marcelo Ebrard, appointed by Lopez Obrador as his foreign minister, pledged Mexico will stick to its non-interventionist tradition.
Last Process: 8 Citations 2018-08-19 18:33:32 GMT (12:33 MDT)