amnesty (2019-05-24). Thailand: Defamation charges for exposing labour abuse. amnesty.org Human rights defenders, activists, journalists and former employees are facing criminal defamation lawsuits for their public comments on labour rights abuses faced by many workers at Thammakaset Co. Ltd, a chicken farm in central Thailand. Nan Win, a former farm worker and Sutharee Wannasiri, a human rights specialist and former employee of Amnesty International Thailand, go on trial on 24 May 2019 while Tun Tun Win, a migrant worker from Myanmar, will stand trial on 5 June 2019. They are three of at least 22 individuals who have faced criminal and civil proceedings initiated by this company.
Yves Engler (2019-05-24). Canada's Five Year Campaign to Oust Venezuela's Government. dissidentvoice.org Why does the dominant media pay so much attention to Russian "meddling" in other countries, but little to Canada's longstanding interference in the political affairs of nations thousands of kilometres from our borders? The case of Ben Rowswell illustrates the double standard well. The current Canadian International Council President has been the leading non-governmental advocate ...
Human Rights Watch (2019-05-24). Lebanon: Syrians Summarily Deported from Airport. hrw.org
| | Members of the Lebanese General Security Directorate oversee Syrian refugees boarding a bus to take them home to Syria, in the northern Beirut suburb of Burj Hammoud, Lebanon, Thursday, Jan. 24, 2019. | © 2019 AP Photo/Bilal Hussein | (Beirut) — Lebanon summarily deported at least 16 Syrians, some of them registered refugees, on April 26, 2019 after they arrived at the Beirut airport, Human Rights Watch, the Lebanese Center for Human Rights (CLDH...
WSWS (2019-05-24). Six immigrant children dead in US custody since September. wsws.org Protecting the lives and democratic rights of immigrants requires a fight against imperialist war and the capitalist system.
Ilana Novick (2019-05-23). Migrant Child's Death in Custody Raises Cover-Up Questions. truthdig.com CBS News reported Wednesday that a 10-year-old girl from El Salvador died in a facility run by the Office of Refugee Resettlement (ORR) in September. She was the first of six migrant children to die in U.S. custody, in a hospital, or shortly after being released, in the last eight months, but the government didn't acknowledge her death until Wednesday. Her name has not been released. | Mark Weber, spokesman for the Department of Health and Human Services,...
Ruth Milka (2019-05-23). 'Extraordinarily concerned' Elizabeth Warren demands answers from the Trump administration on the deaths of migrant children. nationofchange.org Elizabeth Warren is taking action after two more children died in U.S. Customs and Border Protection (CBP) custody this past week. | "I have been and continue to be extraordinarily concerned about this administration's treatment of immigrant children, " writes Warren in her letter, addressed John P. Sanders, acting commissioner of U.S. Customs and Border Protection. | "The deaths of five children who had been in CBP care in six months are appalling,"
RT (2019-05-23). Washington declared 'sanctuary state' as governor looks to stand out in crowded 2020 race. rt.com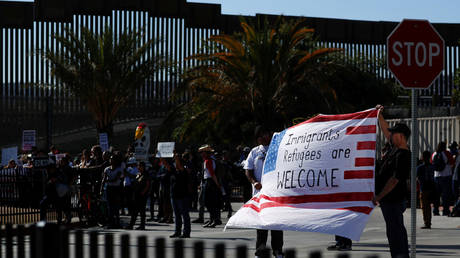 Washington has passed a law barring authorities from questioning people's immigration status — what Governor Jay Inslee boasts is the strongest 'sanctuary state' law in the US, netting him progressive cred for the 2020 election.

aljazeera (2019-05-23). Yemen's Houthi rebels attack Saudi's Najran airport - again. aljazeera.com Houthi fighters launch a new drone strike on an airport along the border with Saudi, as Riyadh says it shot it down.
Thomas Klikauer (2019-05-23). Why Reactionaries Won in Australia. counterpunch.org On 18th of May, a slim majority of Australians elected the arch-conservative Christian fundamentalist and marketing manager Scott Morrison as prime minister. In the picture above and sitting next to coal-carrying Morrison is Peter Dutton. Dutton is Australia's strong man when it comes to tormenting refugees in camps where people are concentrated on distant islands. More
Rima Najjar (2019-05-23). Defunding UNRWA: Trump's Legal Sleight of Hand against Palestine. globalresearch.ca Trump wants to dismantle the United Nations Relief and Works Agency for Palestine Refugees in the Near East (UNRWA) and shift responsibility for Palestine refugees to the office of the UN High Commissioner for Refugees (UNHCR). What has UNHCR got ...
Democracy Now! (2019-05-23). Headlines for May 23, 2019. democracynow.org Trump Administration Says Sixth Migrant Child Died After Crossing Border, Lawmaker Says "Intentional" Trump Admin Policy Led to Child Migrant Deaths, Federal Judge Clears Path for Congressional Subpoena of Trump Financial Records, New York Lawmakers Approve Bill Granting Congress Access to Trump Tax Records, President Trump Storms Out of Meeting with Top Democrats over "Phony" Inquiries, Pentagon Planning to Deploy Ships, Missiles and 10,000 More Troops to Middle East, Indian PM Narendra Modi Headed for Second Term as Hindu Nationalists Surge, Tornadoes Tear Through Missouri, Damaging State Capitol Building, "Ame...
Amy Goodman and Juan Gonzalez (2019-05-23). How ICE is using solitary confinement to punish asylum seekers, including LGBT & disabled immigrants. nationofchange.org The United Nations special rapporteur on torture says solitary confinement should only be used in exceptional circumstances, and defines extended use of solitary as "inhuman and degrading treatment."
Democracy Now! (2019-05-23). Allan Nairn: Impeachment Inquiry Should Focus on Trump's Actual Atrocities, Not a Russia Plot. democracynow.org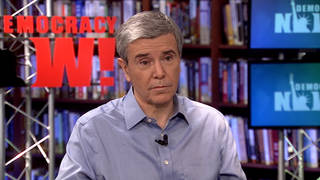 As a growing number of House Democrats are backing the impeachment of President Trump, we speak with investigative journalist Allan Nairn. He says an impeachment inquiry should focus on "the atrocities that Trump is committing daily"—from the death of children on the border to the gutting of environmental protections.
aljazeera (2019-05-23). UNRWA rejects US bid to remove its mandate. aljazeera.com
WSWS (2019-05-23). Flu outbreak leads to quarantine at Texas immigrant detention center. wsws.org The death of a migrant teenager on Monday has highlighted the inhumane conditions at one of the largest immigration detention centers in the US.
Firas Samuri (2019-05-23). Turkish Army Pullout Will Bring Peace to Northern Syria? globalresearch.ca In mid-January 2018, the Turkish General Staff announced the beginning of Olive Branch Operation. The goal was to oust the Kurds from the outskirts of Afrin, as well as to create a buffer zone along the Syrian-Turkish border. | These steps ...
South Front (2019-05-23). Preparations for War: NATO Intelligence Activity Around Russia's Borders. globalresearch.ca In addition to the militarization of Eastern Europe, NATO partakes in active intelligence operations — be it by land, sea and air. | There are numerous reports of various intelligence (spy) aircraft going and even entering Russian airspace, and the ...
amnesty (2019-05-22). Mexico: Rushed approval of public security laws is putting human rights at risk. amnesty.org The Mexican Congress is preparing to approve a package of laws on public security that are contrary to international law and that would put at risk the human rights of the population and undermine the security strategy of the new government, Amnesty International said today. | "If Congress passes this legislation, the National Guard will become an all-powerful security force, without independent scrutiny and with dangerous powers, such as the authority to detain migrants and to use force against public demonstrations it does not deem to be legitimate," said Tania Reneaum, executive director of Amnesty Internation...
United Nations (2019-05-22). Palestine refugees' relief chief warns Security Council money to fund Gaza operations will run out in mid-June. un.org The head of the UN relief and works agency for Palestine refugees (UNRWA) warned on Wednesday that despite weathering a "truly existential crisis" over funding last year, money to continue operations this year in the Gaza Strip will only last until mid-June.
Democracy Now! (2019-05-22). How ICE Is Using Solitary Confinement to Punish Asylum Seekers, Including LGBT & Disabled Immigrants. democracynow.org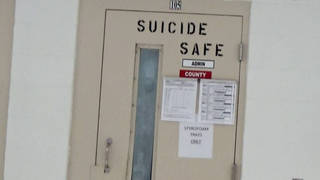 Since 2012, ICE has used solitary confinement as a routine punishment for thousands of immigrants and asylum seekers locked up in immigration jails across the country. We look at a new, damning investigation by the International Consortium of Investigative Journalists that has revealed this widespread abusive use of solitary confinement in immigration jails overseen by U.S. Immigration and Customs Enforcement. The United Nations special rapporteur on torture says solitary confinement should only be used in exceptional circumstances, and defines extended use of solitary as "inhuman and degrading treatment." Despit...
RT (2019-05-22). US shutters large migrant facility in Texas amid flu outbreak. rt.com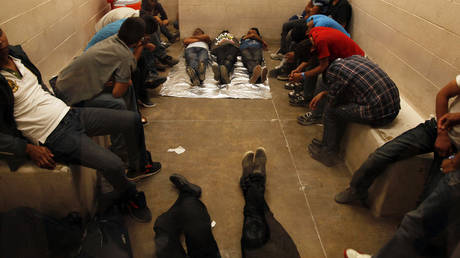 The US border control agency has halted intake at a migrant holding facility in Texas after an outbreak of a "flu-related illness." The closure comes just one day after a 16-year-old detainee died in custody.

Edward Hunt (2019-05-22). Humanitarian Crisis in Venezuela 'On Track to be Worse than Syria'. progressive.org As the Trump Administration tightens its squeeze on the country, U.S. officials warn of increased migration and "profound collapse."
Democracy Now! (2019-05-21). Detained, Abused & Denied Medical Care: How Trump Immigration Policies Led to Child Deaths at Border. democracynow.org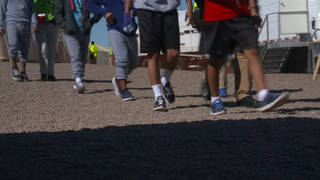 A 16-year-old Guatemalan boy died in U.S. custody Monday after spending a week in immigration jail. Carlos Gregorio Hernandez Vasquez was found dead at a Border Patrol station at Weslaco, Texas, just one day after being diagnosed with the flu. He was not hospitalized. This marks the fifth death of a Guatemalan child apprehended by Border Patrol since December. Before last year, it had been more than a decade since a child died in the custody of U.S. immigration officials. We speak with Fernando Garcia, the founding director of the Border Network for Human Rights, an advocacy organization based in El Paso, and Jen...
Spencer Woodman (2019-05-21). Thousands of Immigrants Suffer in Solitary Confinement in ICE Detention. theintercept.com Dulce Rivera lived for the one hour a day she was allowed outside, to pace alone on a patch of concrete encased in metal fencing. | They called it "the yard," but it was really a metal cage. Still, it was far better than the misery she endured the other 23 hours a day, locked alone in a cell with no one to talk to and nothing to distract her from her increasingly dark thoughts. | Rivera, a 36-year-old transgender woman from Honduras and a longtime U.S. resident, was detained by U.S. Immigration and Customs Enforcement in 2017. She was placed in the Cibola County Correctional Center in New Mexico, and moved into s...
Maryam Saleh (2019-05-21). A Homeland Security Whistleblower Goes Public About ICE Abuse of Solitary Confinement. theintercept.com
Ellen Gallagher was stunned when she first learned that immigrants detained by Immigration and Customs Enforcement were sometimes placed in isolation with no human contact for 22 hours a day. It was February 2014, only a few months into her stint as a policy adviser at the Department of Homeland Security's Office for Civil Rights and Civil Liberties, where she thought she'd be empowered to ensure that the department did not violate the rights of those who came into its crosshairs. | For the next several months, Gallagher educated herself on solitary confinement, a controversial practice used frequently in penal i...
amnesty (2019-05-21). USA: Authorities must stop criminalizing humanitarian aid. amnesty.org The U.S. Department of Justice should immediately drop all criminal charges against humanitarian volunteer Dr. Scott Warren, and stop criminalizing humanitarian aid, Amnesty International said today. | "The U.S. government is legally required to prevent the arbitrary deaths of migrants and asylum seekers in border areas. Yet instead, authorities have willfully destroyed humanitarian aid provisions in deadly desert terrain and are criminally prosecuting humanitarian volunteers in order to deter them from saving lives," said Erika Guevara-Rosas, Americas director at Amnesty International. | The U.S. government is p...
Democracy Now! (2019-05-21). Jennifer Harbury: Deaths of Guatemalan Children at Border Have Roots in Decades of U.S.-Backed Genocide. democracynow.org
Five Guatemalan children have died after being apprehended by U.S. Border Patrol since December. We look at the humanitarian crisis unfolding on the border and its ties to decades of bloody U.S. intervention in Latin America with human rights attorney Jennifer Harbury. Her husband, Efra'n B‡maca Vel‡squez, was a Mayan comandante and guerrilla who was disappeared after he was captured by the Guatemalan army in the 1980s. After a long campaign, she found there was U.S. involvement in the cover-up of her husband's murder and torture. "We trained them. We taught them torture techniques. We funded them, and we armed t...
Democracy Now! (2019-05-21). Headlines for May 21, 2019. democracynow.org Iran Responds to Trump Threat While U.N. Urges All Parties to De-escalate Rhetoric, Houthis Launch Drone Attack on Saudi Airport, U.N. Warns Yemen Food Aid May Be Suspended Due to Instability, Guatemalan Teen Becomes 5th Migrant Child to Die in U.S. Custody Since December, Trump Orders McGahn to Defy Congressional Subpoena, D.C. Judge Orders Accounting Firm to Hand Over Trump Financial Docs, NY Prosecutors Examining Financial Records from Trump's Inauguration, New Zealand Police Charge Christchurch Massacre Suspect with Terrorism, Defeated Prabowo Challenges Re-election of Indonesian President Joko Widodo, New Bo...
Will Parrish (2019-05-20). Border Patrol Museum Demonstrators Targeted In Crackdown On Immigrant Rights Protests. shadowproof.com Four activists turned themselves in to El Paso police on May 13 after the police issued warrants for their arrest related to a nonviolent demonstration inside a United States Border Patrol museum.
Terrence Myers (2019-05-21). How the 'war on gangs' feeds mass incarceration. liberationnews.org
Why gang databases and raids are not a solution.
Jeremy Kuzmarov (2019-05-21). Locked in a Cold War Time Warp. counterpunch.org
On Saturday May 18th, the New York Times ran a lengthy front-page article by Alexander Burns and Sydney Ember entitled "Mayor Who Brought the Cold War to Vermont," which exemplifies how the poisonous political climate of the Cold War has not yet receded.The piece details presidential contender Bernie Sanders' opposition to Ronald Reagan's Central America Wars in the 1980s while Burlington Mayor, and Sanders' travels to Nicaragua and meeting with Sandinista revolutionary leader Daniel Ortega. More
Democracy Now! (2019-05-17). Headlines for May 17, 2019. democracynow.org Trump Immigration Plan Favors Job Skills Over Asylum Claims and Family Ties, Trump Officials Reportedly Clash Over U.S. Sabre-Rattling With Iran, UNICEF Chief Calls Yemen War "a Test of Our Humanity" That "We Are Badly Failing", Venezuelan Government Blasts U.S. Seizure of Embassy as Vienna Convention Violation, Brazilian Teachers and Students March Against Education Cuts, Mexican Journalist Francisco Romero Killed in Playa del Carmen, Lawyer Says Tennessee Prisoner "Suffered Excruciating Pain" During Execution, Alabama Prisoner Put to Death After "Pro-Life" Governor Denies Reprieve, Senate Confirms Anti-Choice A...
susan_p (2019-05-17). United States: Resisting Trump's attacks on migrants. greenleft.org.au
Green Left Weekly's Jacob Andrewartha and Zane Alcorn spoke to Justin Akers Chac—n, a Mexican-based, US immigrant rights activist, in Melbourne for the Marxism conference in April. | What can you tell us about the current situation in the US regarding immigration, particularly as we enter the second half of US President Donald Trump's term in office? | The situation is really dire in many ways. Trump has ratcheted up the attack on immigrants, including trying to prevent thousands of Central American asylum-seekers from even reaching the border where they could apply for asylum. | He has done this by essentially s...
Democracy Now! (2019-05-17). Immigrant Activists Maru Mora-Villalpando & Ravi Ragbir Keep Speaking Out Despite Deportation Threat. democracynow.org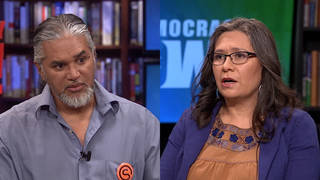 President Trump has unveiled plans for a new, so-called "merit-based" immigration system that would prioritize "highly-skilled" and English-speaking workers, while further restricting asylum seekers and immigrants who have family living in the United States. Although no legislative details for the plan have been revealed, Trump's proposal is likely to hit a wall in Congress, where the Democratically-led House has repeatedly clashed with the Trump administration over immigration policy. Trump's immigration policies have led to dire conditions for asylum seekers to the U.S. On Wednesday, a two-and-a-half year-old m...
Democracy Now! (2019-05-16). Headlines for May 16, 2019. democracynow.org Alabama Governor Signs Nation's Most Restrictive Anti-Choice Law, Missouri Senate Votes to Ban Most Abortions After 8 Weeks, Trump Declares National Emergency, Blacklisting Chinese Telecom Huawei, Trump Delays Plans for Tariffs on Foreign Cars and Auto Parts, Trump to Announce "Merit-Based" Immigration Plan to Limit Asylum Cases, Family Reunifications, White House Refuses House Judiciary Committee Request for Documents, U.S. Won't Join "Christchurch Call" Against Online Extremism, Six Civilians Killed in Yemen as Saudi-Led Coalition Bombs Fall on Sana'a, Sudanese Troops Fire on Pro-Democracy Protesters as Militar...
splcenter (2019-05-16). Weekend Read: Our "irredeemably dysfunctional" immigration courts. splcenter.org On January 1, 1892, Ellis Island opened as an immigration inspection station. More than 40 percent of people currently living in the United States are among, or are descendants of, the 12 million immigrants who passed through its doors.
splcenter (2019-05-17). Trump is lying about immigrant crime — and the research proves it. splcenter.org Since he began campaigning, President Trump has demonized Latino immigrants as "criminals." He has called them "rapists," drug dealers, "animals" and "bad hombres" who "infest our country."
kathy_f (2019-05-17). Tamil genocide remembered, deportation opposed. greenleft.org.au
More than 100 people attended a rally called by the Tamil Refugee Council on May 15. The rally combined a commemoration of the genocidal massacre of Tamils in Sri Lanka 10 years ago with opposition to the imminent deportation of a Tamil refugee family to Sri Lanka following the rejection of their appeal to the High Court. | In May 2009 tens of thousands of Tamil civilians died when the Sri Lankan army and air force bombarded them during the final weeks of the war between the Sri Lankan government and the Liberation Tigers of Tamil Eelam. The LTTE were fighting for an independent Tamil homeland in the north and ea...
splcenter (2019-05-16). SPLC: Congress should dismiss President Trump's dubious 'merit-based' immigration plan in favor of real reform. splcenter.org President Trump made a speech in the White House Rose Garden today about a plan to move U.S. immigration toward a "merit-based system" that would prioritize high-skilled workers over those with family members who are already in the country.
splcenter (2019-05-15). Setting the record straight: Real talk about immigration courts. splcenter.org The Trump administration's recent "fact sheet" on U.S. immigration proceedings excludes critical information about the immigration system and only serves to spread misinformation and distrust of immigrants and asylum seekers.
Meghan Krausch (2019-05-15). Fighting to Protect the Forest in Honduras. progressive.org Many in the U.S. are unaware of the connection between refugees fleeing Honduras, and the struggle there for environmental justice.
Gabrielle Crosby and Dylan Citron (2019-05-12). Boston vigil demands end to criminalization of humanitarian aid to migrants. liberationnews.org
"Humanitarian aid is never a crime."
splcenter (2019-05-10). SPLC argues in court against "turnback" policy that blocks immigrants from seeking asylum. splcenter.org After three MS-13 gang members threatened Dinora and her 17-year-old daughter with death, they kidnapped them from their home in Honduras and repeatedly raped them.
CounterSpin (2019-04-26). Tina Vasquez on Covering Immigration, Sina Toossi on Iran Sanctions. fair.org
Media...

Ricardo Vaz (2019-04-30). Venezuelan Military Putsch Defeated as Leopoldo Lopez Takes Refuge in Spanish Embassy. venezuelanalysis.com Opposition protesters clashed with security forces while government supporters swiftly mobilized to defend the presidential palace.

-- Last Process: 45 Citations: 2019-05-24 08:45 GMT (04:45 EST)