Center for Biological Diversity (2018-12-10). Judge Orders Kern County to Rescind Approvals for Grapevine Development. indybay.org Court Says Kern County Must Consider Air Pollution, Health Impacts...
Human Rights Watch (2018-12-10). United States: Deregulating Mountaintop Removal Threatens Drinking Water and Public Health. hrw.org
...
Shared by Hezvo Mpunga (2018-12-08). Making Global Climate Change Local. therealnews.com
At the Sanders Institute Gathering, Abdul El-Sayed, the runner-up in Michigan's Democratic 2018 governor's race primary, talks about how to bridge fights for environmental health and justice with the global fight to reduce carbon emissions
Anthony Galace (2018-12-07). Health Care Merger a Poison Pill for Patients. progressive.org CVS's recent merger will reduce competition among pharmacies significantly...
Democracy Now! (2018-12-07). Headlines for December 7, 2018. democracynow.org Yemen: U.N. Declares Famine as Warring Parties Meet in Sweden, North Carolina Democrat Withdraws Concession over Apparent Vote Fraud, U.S. and Canada Won't Explain Reasons for Chinese Executive's Arrest, Greenland Ice Sheet Melting at Fastest Pace in Centuries, Trump Rollback of Sage Grouse Protection to Open Millions of Acres to Drilling, BuzzFeed: Facebook Impostor Helped Organize Migrant Caravan, Robert Mueller to Submit Sentencing Guidelines for Manafort, Cohen, Trump Nominates Former Fox News Host Heather Nauert as U.N. Ambassador, Trump Considers Bringing Back William Barr as Attorney General, Trump Campaig...
Michelle Chen (2018-12-06). Mercury Poisoning Is Becoming a Global Public-Health Crisis. thenation.com Mercury Poisoning Is Becoming a Global Public-Health Crisis...
ACLU (2018-12-05). Why I Ended the Horror of Long-Term Solitary in Colorado's Prisons. aclu.org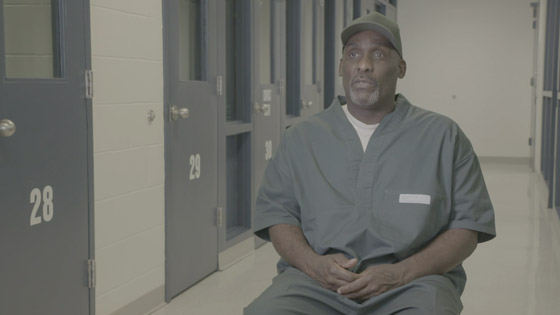 Long-term isolation has disastrous physical and mental health effects that can amount to torture. The practice must be abandoned across the nation. | In Colorado, long-term solitary confinement used to be a tool that was regularly used in corrections. The problem is that it was not corrective at all. It was indiscriminate punishment that too often amounted to torture and did not make anyone safer. | The practice was pervasive because it was considered reasonable and effective. It was neither. In practice, long-term isolation punished people in a way that not only lacked humanity but sense. And when a program lack...
Hatewatch Staff (2018-12-05). Hatewatch Headlines 12/5/2018. splcenter.org Facebook lets users post about killing immigrants; Is ICE targeting activists? Tomi Lahren warns about 'caravan of diseases'; and more.
Democracy Now! (2018-12-03). Interview: Bernie Sanders on Ending Yemen War, Medicare for All, Green New Deal & the Stop BEZOS Act. democracynow.org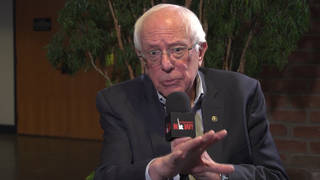 Hundreds of international progressive leaders gathered in Burlington, Vermont, last weekend for an event hosted by The Sanders Institute. While there, Amy Goodman sat down with independent Vermont Senator Bernie Sanders to discuss his efforts to pass a Green New Deal, raise the minimum wage and protect Social Security. He also spoke about last week's historic Senate vote to advance a resolution he co-sponsored to end military support for the Saudi-led, U.S.-backed war in Yemen.
Democracy Now! (2018-11-30). Full Bernie Sanders Speech on Economic Justice, Healthcare, Opposing Trump & Ending the War in Yemen. democracynow.org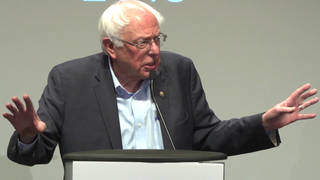 Hundreds of international progressive leaders have traveled to Burlington, Vermont, for a gathering hosted by The Sanders Institute. Last night, former presidential candidate and independent Vermont Sen. Bernie Sanders kicked the event off with a keynote speech on healthcare, raising the minimum wage and his bipartisan resolution to end military support for the U.S.-backed, Saudi-led bombing of Yemen. He was introduced by Harvard professor Cornel West.
Democracy Now! (2018-11-30). Medicare for All: As Healthcare Costs Soar, Momentum Grows to Guarantee Healthcare for All Americans. democracynow.org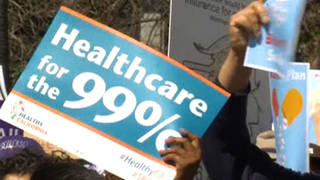 As Democrats prepare to take control of the House, pressure is growing on the Democratic leadership to embrace Medicare for all. Nearly 50 newly Democratic members of Congress campaigned for Medicare for all. In the last year, 123 incumbent House Democrats also co-sponsored Medicare-for-all legislation, double the number who supported a Medicare-for-all bill in the previous legislative session. Meanwhile, pharmaceutical, insurance and hospital companies are paying close attention. As The Intercept's Lee Fang reports, over the summer the groups formed a partnership to fight the growing support for expanding Medica...
Democracy Now! (2018-11-30). Headlines for November 30, 2018. democracynow.org Former Trump Lawyer Cohen Pleads Guilty to Lying to Cover for Trump, Trump Cancels G20 Meeting with Putin, Deutsche Bank Raided in Money Laundering Probe, Migrant Caravan Organizes for Fair Treatment as Members Start Hunger Strike, Reports: Tear Gas Used at Border Supplied by Co. Owned by Political Donor, U.S., Mexico and Canada Sign Trade Deal, Honduras: Court Convicts 7 Men for Murder of Activist Berta C‡ceres, Body Search Ends in Paradise as Rains Batter Region, Zinke Promotes Logging While Visiting Wildfire-Devastated Area, Report: Health Effects of Smoke Exposure Last Months After Wildfires, CNN Fires Contri...
Last Process: 12 Citations: 2018-12-10 09:38 GMT (04:39 EST)