wsws.org (2018-08-20). This week in history: August 20-26. wsws.org 25 years ago: Jury convicts two Detroit cops in murder of Malice GreenOn August 23, 1993, a Detroit jury returned verdicts of second-degree murder against two white policemen for the beating death of Malice Green, a young black worker. Walter Budzyn and Larry Nevers smashed in Green's skull with heavy flashlights while seven other policemen stood around them and allowed the savagery to continue without interference. At least one of these accomplices, Robert Lessnau, kicked and punched Green during the beating, as he put handcuffs on the dying man.
Shared by Merula Furtado (2018-08-19). "Danger" Wasn't a Word We Knew: Elaine Mokhtefi and the Panthers in Algiers. truthout.org
Algiers, Third World Capital, is a rare glimpse into the work of the international arm of the Black Panther Party.
RT (2018-08-19). 'Where's the evidence?' Chicago community shocked after teen kills himself while running from police. rt.com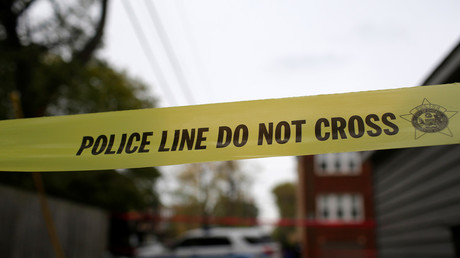 A Chicago community is in disbelief after a 16-year-old African-American teen reportedly shot himself while running from officers after they tried to question him about being in possession of a weapon.
Read Full Article at RT.com
wsws.org (2018-08-18). Australian police killed mentally ill young woman seconds after arriving at scene. wsws.org The Coroner's Court was told that 42 percent of those shot by police in Australia between 1989 and 2011 were suffering from a mental illness.
Shaun King (2018-08-19). When Will the Democratic Party Get Involved in Local and State Law Enforcement Races? theintercept.com
Protesters hold signs during a rally calling for criminal justice reform outside the U.S. Capitol in Washington, D.C., on July 10, 2018. | . Eighty percent of Democrats want to see the whole justice system reformed. | But when the rubber meets the road on actually making criminal justice reform happen, Democrats are ghosts. I'm not talking about the senators who are likely going to run for president. They have a lot to say about criminal justice reform. And I'm not throwing shade, but it's easy to talk about bold reforms and game-changing policies when you aren't in power — Republicans did it every year when Barack Obama was in the Oval Office. What I'm talking about is the Democratic Party machinery on the local, state, and federal level.If the Democratic Party was smart, they would be out front leading and...
RT (2018-08-18). African-American support of Trump at 36%, almost double from last year — poll. rt.com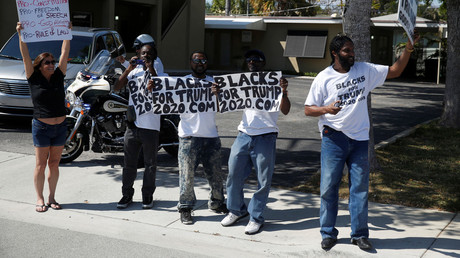 Support for US President Donald Trump among black voters is currently at 36 percent, almost double the number from last year, according to a new poll. It comes despite reports that a tape exists of Trump using the N-word.
Read Full Article at RT.com
Rann Miller (2018-08-17). In DeVos's Home State, Students Push for their Right to Literacy. progressive.org Literacy has been, and continues to be, a critical component of African-American liberation.
Rob Arthur (2018-08-16). 130 Chicago Officers Account for 29 Percent of Police Shootings. theintercept.com
While more than 95 percent of all Chicago police officers never fired their gun from 2004 to 2016, 130 officers have done it more than once.
Rob Arthur (2018-08-16). Bad Chicago Cops Spread Their Misconduct Like a Disease. theintercept.com
From 1972 to 1991, a Chicago detective named Jon Burge led a group of police officers in torturing confessions out of suspects. They called themselves the " Midnight Crew," and their behavior eventually resulted in the jailing of Burge and the creation of a reparations council to pay the victims. More recently, the Baltimore Police Department's Gun Trace Task Force was found to have planted evidence, assaulted innocent citizens, and committed overtime fraud. | Many of the most egregious examples of police misconduct arise from tightly knit groups of officers like these. That's no accident. Recently released data from the Chicago police department shows that misconduct spreads from officer to officer like an infectious disease. And the same behavior that leads cops to violate the rules often predicts whether they will participate in a shooting. | In 2009, the Invisible Institute...
RT (2018-08-15). White House apologizes over wrong African-American jobs claim. rt.com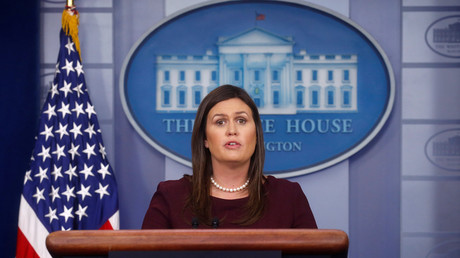 White House Press Secretary Sarah Huckabee Sanders has backtracked on her claim that the Obama administration created just 195,000 jobs for African Americans, after it emerged that the actual figure is closer to three million.
Read Full Article at RT.com
Zaid Jilani (2018-08-15). Sheriff David Clarke's Deputy Goes Down in a Night of Big Wins for Wisconsin Progressives. theintercept.com While a primary victory by ironworker Randy Bryce won headlines in Wisconsin, a lower-profile race signaled another significant victory for criminal justice reform strategists who have embraced electoral politics as a direct route to change. | In Milwaukee, former MLB security official Earnell Lucas won the Democratic nomination for sheriff, which almost guarantees he will win the general election in November. Lucas, a progressive with the backing of the Working Families Party, defeated Acting Sheriff Richard Schmidt, who had previously worked under Sheriff David Clarke, whose tenure was marked with mistreatment of Milwaukee residents. Schmidt was unable to overcome the association with Clarke, who is better known these days as a Fox News personality. | Schmidt's loss came just a week after the movement dealt another controversial and high-profile law enforcement official a blow, unseating Bob McCulloch in St. Louis County.
Erin Corbett, Elizabeth King (2018-08-14). The Dangers of Shunning 'Bad' Protesters. thenation.com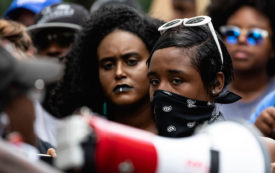 The narratives that painted Black Lives Matter activists as "violent" have turned into legislation that targets black people, leftists, and other marginalized groups.
RT (2018-08-13). 'This state and constitution aren't made for us': RT doco follows African-American activists. rt.com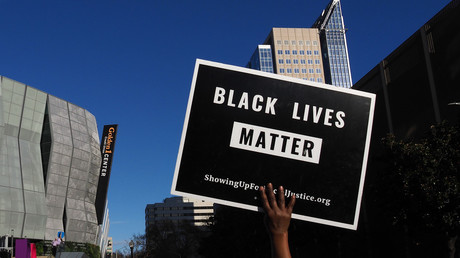 With racial tensions in the USA back in the spotlight over the last few years, a gripping new RT documentary series visits African-American communities and the activists fighting against a history of racial injustice and poverty.
Read Full Article at RT.com
splcenter.org (2018-08-10). SPLC urges thorough guidelines for collection of data on fatal police encounters, prisoner deaths. splcenter.org The U.S. Department of Justice (DOJ) should adopt guidelines that ensure the "timely, accurate and complete" collection of data on police killings and deaths in correctional facilities in all states and U.S. territories, the Southern Poverty Law Center said in comments submitted to the DOJ today.
Sarah Jaffe (2018-08-08). Challenging the Far-Right in Public Spaces. progressive.org Listen to what Black Lives Matter Charlottesville is planning for the first anniversary of the "The Unite the Right" rally.
Last Process: 15 Citations 2018-08-20 14:15:25 GMT (08:17 MDT)