Khubaka, Michael Harris (2018-10-16). Leidesdorff Day 2018, Historic Negro Bar, Sacramento County. indybay.org Restoration and reconciliation of the stolen legacy from the "African Founding Father of California" Honorable William Alexander Leidesdorff, Jr. may help mitigate some of today's challenges seeking to remove the name Negro Bar, Folsom Lake Recreational Area by showcasing to the world the amazing contributions by "hidden figures" of Pan Africans during the California Gold Rush Era.
The Saker (2018-10-16). The Khashoggi Extortion Fiasco. iranian.com A mystifying diplomatic escalation ensued following the disappearance of Saudi Washington Post columnist, Jamal Khashoggi, after visiting the Saudi Consulate in Istanbul, Turkey. Why would the United States of America make such a fuss over the disappearance of a non-American citizen? Why would America turn a blind eye to the Saudi killing of thousands of Yemeni [...]
John Wojcik (2018-10-15). Racist dog whistles against Andrew Gillum could backfire on Florida GOP. peoplesworld.org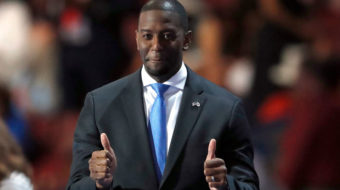 After Andrew Gillum became the first major party African-American nominee for governor this year in Florida, Republicans immediately launched a barrage of racist attacks on him. Since then, they've gone way beyond old dog whistle tactics. Republican ads have described him as "lazy" and unwilling to do the hard work of...
Human Rights Watch (2018-10-15). Rural Women and Girls Sidelined. hrw.org
Women prepare food in Hamdallaye village in the Boké region. Compensation payments for land lost to mining are often paid to male heads of household or lineages, even where the land is utilized by entire families or households. January 2018.
Democracy Now! (2018-10-15). Headlines for October 15, 2018. democracynow.org Trump Rejects Ending Saudi Arms Sales over Journalist's Disappearance, Corporate Executives Pull Out of Saudi Investment Summit, Yemen: U.S.-Backed, Saudi-Led Airstrike Kills 19 and Injures 30, U.S. Death Toll from Hurricane Michael at 19 as Dozens Remain Missing, Trump Doubles Down on Climate Change Denial on "60 Minutes", Senate Confirms Former BP Oil Defender as Top Environmental Lawyer, Tens of Thousands March in Europe Demanding Action on Climate, Somalia: Al-Shabab Suicide Bombers Kill 20, Injure 40, Nigeria: Anti-Boko Haram Militia Releases Children It Held Captive, Gaza: Israeli Forces Kill 7 Palestinians...
Patrick Cockburn (2018-10-15). The Saudi Atrocities in Yemen are a Worse Story Than the Disappearance of Jamal Khashoggi. counterpunch.org
The plot to supposedly murder Jamal Khashoggi, as apparently proved by Turkish audio and video evidence shown to US officials, is a grisly mixture of savagery and stupidity: Jack the Ripper meets Inspector Clouseau. Neither element is surprising because violent overreaction to minor threats is a traditional feature of dictatorial rule. As seems to be the case with Saudi Arabia today, Iraq under Saddam Hussein made immense efforts to eliminate exiled critics who posed no danger to the regime. RT (2018-10-14). Wildlife official who killed 'whole family of baboons' faces backlash, calls for resignation. rt.com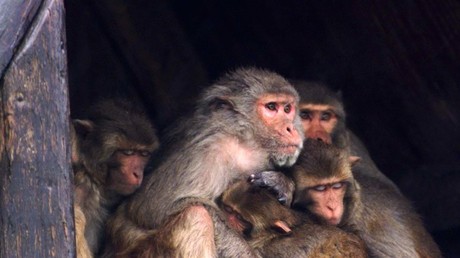 An Idaho Fish and Game Commissioner who shared graphic images of animals he killed in Africa, including a "family of baboons," is facing calls to resign.
Read Full Article at RT.com
Democracy Now! (2018-10-12). Headlines for October 12, 2018. democracynow.org Hurricane Michael Flattens Florida Towns as It Rips Through Southeast, Turkish Gov't Says It Has Video Evidence of Khashoggi's Murder at Saudi Consulate, President Trump Rejects Calls to Cut Off Arms Sales to Saudi Arabia, Report: Trump Administration Separated 6,000 Families in 4 Months, AP: U.S. Army Discharged 500 Immigrant Recruits, Kanye West Praises Trump During 10-Minute Oval Office Tirade, Pop Star Taylor Swift Tells Fans to Vote in Midterms, Washington Archbishop Resigns Amid Growing Church Sex Abuse Crisis, Syrian Rebels Withdrawing Heavy Weapons from Idlib Under Turkey-Russia Deal, HRW: Egyptian-Americ...
Human Rights Watch (2018-10-12). Central African Republic: Rebels Executing Civilians. hrw.org
| Civilians and Seleka fighters from the Popular Front for the Renaissance in the Central African Republic (Front Populaire pour la Renaissance de la Centrafrique, FPRC) move the body of Mariam Hussein for burial on September 22, 2018. Hussein was killed the previous evening by anti-balaka fighters outside the Borno...
Nick Pemberton (2018-10-12). The Colonial Pantsuit: What We Didn't Want to Know About Africa. counterpunch.org
Melania Trump's latest outfit raised the brows of the White Savior Industrial Complex. Melania wore a pith helmet, which is now virally recognized as a symbol of colonialism. Um, yes. But isn't that the whole point of her Angelina Jolie orphan hugging trip? Shouldn't we be more upset she went on a colonizing trip in the first place? Becoming upset with a colonizer for wearing a colonizer hat? It's like getting upset with the murdering police force for using their sirens. The colonizer hat is at least a warning sign! RT (2018-10-12). Trump under pressure to stop arms sales to 'good partner' Saudi Arabia over Khashoggi affair. rt.com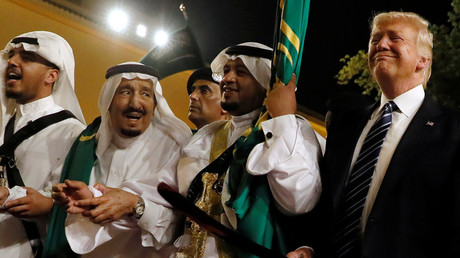 As public pressure mounts on the Trump administration to halt arms sales to Saudi Arabia over the disappearance of journalist Jamal Khashoggi, the US defense industry is alarmed while critics of the Yemen war hope for the best.
Read Full Article at RT.com
Democracy Now! (2018-10-12). Decades After Taking Henrietta Lacks's Cells Without Consent, Johns Hopkins Names Building After Her. democracynow.org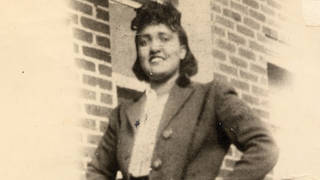 Johns Hopkins University has announced plans to name a new research building after Henrietta Lacks, an African-American woman who permanently changed modern medicine nearly 70 years ago when it was discovered that her cells could live forever. These "immortal cells" have helped scientists produce remedies for numerous diseases, including the first polio vaccine, that have saved hundreds of thousands of lives. But Lacks's cells were taken without her consent when she was a patient at Johns Hopkins University Hospital in 1951. For decades, the woman whose cells would transform modern medicine was unknown. Instead,...
Vanessa Mbonu@naacpnet (2018-10-12). President Johnson Talks African-American Vote on Jonathan Capehart Podcast. naacp.org NAACP President and CEO, Derrick Johnson, was a guest on the America On The Line podcast, hosted by Jonathan Capehart, and talked about the power of the African American vote this midterm election. President Johnson spoke about why this year's elections are especially important, and what it means for the coming years. "One election cycle [...]
Ahmed Abdulkareem (2018-10-12). In Latest Yemen Offensive, Saudi Arabia Destroys Hospital and Maternity Ward. mintpressnews.com The latest Saudi coalition attacks came in the face of demands issued by the United Nations Committee on the Rights of the Child for the coalition to stop its deadly airstrikes against civilian targets in Yemen.
Democracy Now! (2018-10-12). Rep. Ro Khanna Condemns Saudi Barbarity from Disappearance of Saudi Journalist to War in Yemen. democracynow.org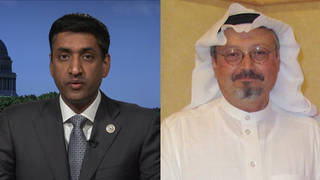 President Donald Trump is rejecting calls to cut off arms sales to Saudi Arabia following the disappearance and probable murder of the Saudi-born Washington Post journalist Jamal Khashoggi. The Washington Post is reporting the Turkish government told U.S. officials it has audio and video evidence that Khashoggi was killed last week inside the Saudi Consulate in Istanbul. Officials say the recordings confirm that a Saudi security team detained Khashoggi after he walked into the consulate on October 2, before killing him and dismembering his body. We speak with Ro Khanna, Democratic congressmember from California.
Human Rights Watch (2018-10-11). Egypt: An Account of Alleged Torture in Secret Detention. hrw.org
Khaled Hassan, an Egyptian-American citizen, claimed authorities disappeared him on January 8 and severely abused him. | © Private | | (Beirut) — Egyptian authorities forcib...
Human Rights Watch (2018-10-11). Iran: Environmentalists Languish in Jail. hrw.org
(Beirut) — Eight environmental activists arbitrarily detained in Iran in January and February 2018 remain in detention eight months later without clear charges, Human Rights Watch said today. Iranian authorities should either immediately release them or charge them with recognizable crimes and produce evidence to justify their continued detention. |
Human Rights Watch (2018-10-11). UN: Philippines, Eritrea Don't Belong on Rights Council. hrw.org (New York) — United Nations member countries should oppose the candidacies of the Philippines and Eritrea for the Human Rights Council because of their egregious human rights records, Human Rights Watch said today. Serious rights violations in Bahrain and Alex Kane (2018-10-11). "Something Out of a Horror Movie": Egyptian Security Forces Tortured and Raped American-Citizen Detainee, Rights Group Says. theintercept.com
Khaled Hassan's case is the most brazen example of Egypt abusing a U.S. citizen. But he's not alone.
Human Rights Watch (2018-10-11). Africa: Educated Girls Crucial for Skilled Workforce. hrw.org
© 2017 Marco Tibasima for Human Rights Watch | African governments should ensure the right to education for all girls by ending discrimination against those who are pregnant or have children, Human Rights Watch said today ahead of the United Nations Vanessa Mbonu@naacpnet (2018-10-10). "Voting needs to become ubiquitous to the Black community as quickly as possible," says NAACP President. naacp.org NAACP President and CEO, Derrick Johnson, penned an opinion piece for Essence magazine, a leading magazine publication for African-American women. In it, he emphasizes the need to mobilize the Black vote for the 2018 midterm elections, the organization's plan to support this effort, and the Black individual's role in relational organizing: "Voting needs to become [...]
Mohamad Bazzi (2018-10-10). American Officials Could Be Prosecuted for War Crimes in Yemen. thenation.com American Officials Could Be Prosecuted for War Crimes in Yemen...
Democracy Now! (2018-10-05). Eve Ensler: Nobel Peace Prize for Mukwege & Murad Is an Award for Every Rape Survivor in the World. democracynow.org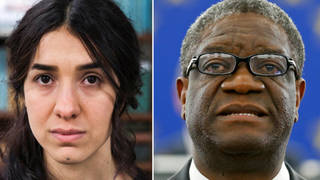 After a landmark year for the "Me Too" movement, which ignited an international conversation on sexual assault, the Nobel Peace Prize was awarded Friday morning to two champions of women's rights who have built their careers fighting sexual violence: physician Denis Mukwege and human rights activist Nadia Murad. Dr. Denis Mukwege founded the Panzi Hospital in the Democratic Republic of Congo in 1999. The clinic receives thousands of women each year, many of them requiring surgery as a result of sexual violence. Nadia Murad is a 25-year-old Yazidi Kurdish human rights activist from Iraq. She was kidnapped and held...
Democracy Now! (2018-10-03). Headlines for October 3, 2018. democracynow.org Indonesia: Tsunami Death Toll Tops 1,400 as Volcano Erupts on Sulawesi, NYT: Trump's Wealth Comes from Family, Fraud and Tax Dodging, FBI Wrapping Up Kavanaugh Probe Without Interviewing Key Witnesses, Trump: "It's a Very Scary Time for Young Men in America", World Court: U.S. Must Lift Humanitarian Sanctions Against Iran, Suicide Bomb in Afghanistan Kills 13, Injures Dozens, Ethiopia: 44 Killed in Ethnic Violence, FLOTUS Visits Former Slave Trading Fortress in Ghana, U.S. Admitted 22,000 Refugees in FY 2018, Lowest Number in 40 Years, Shipwreck Off Morocco Kills 34 Refugees Heading to Spain, Presidential Alert T...
Democracy Now! (2018-10-05). Headlines for October 5, 2018. democracynow.org Senate Set to Close Debate on Kavanaugh Supreme Court Nomination, Coalition of 100,000 U.S. Churches Opposes Kavanaugh Nomination, Kavanaugh Defends His Record in Unprecedented WSJ Op-Ed | , Retired Supreme Court Justice John Paul Stevens Opposes Kavanaugh, 300 Arrested on Capitol Hill as Thousands March Against Kavanaugh, Yemen: Tens of Thousands Protest Economic Collapse Amid Bombing, Bloomberg: China Hacked U.S. Companies, Including Amazon, Apple, VP Pence Accuses China of Interfering in Midterms, Undermining Trump, U.S. Indicts Russians for Hacking Anti-Doping Orgs, Targeting Nuclear Sites, Dutch Officials Sa...
Democracy Now! (2018-10-04). Headlines for October 4, 2018. democracynow.org As FBI Probe Wraps Up, Senate Could Vote on Kavanaugh on Saturday, Key GOP Senators Criticize Trump for Mocking Christine Blasey Ford, Over 1,200 Law Professors Sign Letter Opposing Kavanaugh Nomination, U.N.: Yemen Sees 10,000+ New Cases of Cholera Every Week, Trump Suggests Saudi Monarchy Would Collapse Without U.S. Support, Saudi Dissident Journalist Missing After Visit to Consulate in Turkey, Israeli Forces Kill Palestinian Teenager at Gaza Protest, U.S. Quits 1955 Iran Treaty After U.N. Court Rules Against Sanctions, Judge Halts Termination of Protected Status for 300,000 Immigrants, Report: DHS Was Unprepar...
Last Process: 26 Citations: 2018-10-16 08:42 GMT (04:44 EST)