aljazeera (2019-02-16). Young and unemployed in Nigeria. aljazeera.com Why joblessness is such a huge problem in Africa's most populous nation.
aljazeera (2019-02-16). Eight killed in Boko Haram attack in Nigeria. aljazeera.com Residents killed after Boko Haram fighters attacked the city of Maiduguri, according to leader of a civilian task force.
aljazeera (2019-02-16). Dozens feared dead in Zimbabwe gold mine flood. aljazeera.com At least 60 miners were in the two disused shafts when they were flood on Tuesday, according to the government.
teleSUR (2019-02-16). Hong Kong: Record Haul of Rhino Horns Found in Check-In Boxes. telesurenglish.net A major bust of several dozen kilograms of rhino horns, en route to Vietnam from Johannesburg, South Africa were confiscated by customs authorities at Hong Kong International Airport. | RELATED: | Grace Mugabe Under Investigation for Ivory Smuggling Ring | "It's shocking to us that today's 40-kilogram rhino horn seizure equates to about 20 percent of the total amount of rhino horn seized in Hong Kong from 2013 to the end of October 2018," conservation group, WildAid, said. | Two me...
RT (2019-02-16). Chicago PD releases 'persons of interest' in shady Jussie Smollett attack case. rt.com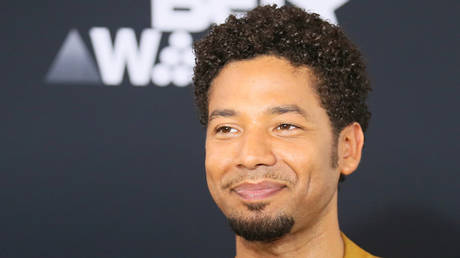 Fueling suspicions that the 'racist, homophobic' attack on actor Jussie Smollett was a hoax, Chicago police have released the two Nigerians arrested as "persons of interest" without charges, claiming they have more work to do.

aljazeera (2019-02-16). Nigeria elections postponed by a week. aljazeera.com Electoral commission made the move hours before millions of Nigerians were to start voting in the presidential election.
aljazeera (2019-02-16). Sudan: A crumbling regime puts the squeeze on the media. aljazeera.com Massive protests continue in Sudan despite government crackdown. Plus, India's media and the Ambani brothers.
Brian Cloughley (2019-02-15). In Libya, "We Came, We Saw, He Died." Now, Maduro? counterpunch.org "Now it is time for every other nation to pick a side. No more delays, no more games. Either you stand with the forces of freedom, or you're in league with Maduro and his mayhem." — US Secretary of State Pompeo addresses the UN Security Council on January 26, 2019. Libya is in a state of anarchic More
amnesty (2019-02-15). Equatorial Guinea: Rights lawyer faces bogus charges. amnesty.org Grave Concern Detainees Have Been Tortured, Killed | Equatorial Guinea named a French anti-corruption lawyer in an arrest warrant against 16 people, in apparent retaliation for his involvement in a money laundering trial against the president's eldest son, nine human rights and anti-corruption groups said today. | The warrant accuses the 16 targets of laundering money and helping to finance "terrorism and the proliferation of arms trafficking in Central Africa." | Named in the warrant are also people already in police custody accused of participating in a December 2017 coup attempt. They have been unable to commu...
Jud Lounsbury (2019-02-15). A Very, Very Great Comparison Study of the Best and Worst Presidencies, Ever. progressive.org Declaring a national emergency is just the latest move by the "maximalist" President. Here we share a comparison of the Trump and Obama presidencies . . . by Donald J. Trump.
Robert Scheer (2019-02-15). Jesus Christ's Lesson for the 21st Century. truthdig.com Tom Catena, who risks his life daily to provide medical care in an African war zone, examines what it means to be a good Samaritan.
amnesty (2019-02-15). Egypt: End the cruel denial of family visits to detainees. amnesty.org Egyptian authorities are flagrantly violating international law by denying family visits to scores of detainees, Amnesty International said today. The organization has examined an official document which confirms there is an open-ended ban on family visits in a number of sections at two major prison complexes in Cairo and Alexandria. | Amnesty International has also recorded at least 61 cases of people who were prevented from receiving family visits for protracted periods — in some cases for up to two years - at Tora prison in Cairo and Borg al-Arab in Alexandria. The total number of detainees barred from r...
amnesty (2019-02-15). Guinea Ecuatorial: Activistas y defensores y defensoras de los derechos humanos pagan un alto precio por alzar su voz. amnesty.org Este documento se ha preparado para el examen periódico universal (EPU) al que se someterá Guinea Ecuatorial en mayo de 2019. Amnistía Internacional evalúa en él la implementación de las recomendaciones formuladas a Guinea Ecuatorial en su anterior EPU, en particular las relativas a la situación de los defensores y defensoras de los derechos humanos.
Human Rights Watch (2019-02-15). Equatorial Guinea: Rights Lawyer Faces Bogus Charges. hrw.org
| | William Bourdon | © Private | (Paris)— Equatorial Guinea named a French anti-corruption lawyer in an arrest warrant against 16 people, in apparent retaliation for his involvement in a money laundering trial against the president's eldest son, ten human rights and anti-corruption groups said today. The warrant accuses the 16 targets of laundering money and helping to finance "terrorism and the proliferation of arms trafficking in Central Africa." | Nam...
teleSUR (2019-02-15). Madagascar: 1,000 Children Dead From Measles Since October. telesurenglish.net At least 922 children and young adults have died of the highly-contagious-yet-able-to-be-vaccinated disease, measles, in Madagascar since October of last year -- despite a huge emergency vaccination program, the World Health Organization (WHO) said Thursday. | RELATED: | Madagascar Court Declares New President Amid Fraud Allegations | The official number of deaths are likely to be very incomplete, said Dr. Katrina Kretsinger of WHO's expanded program on immunization, and it' s...
amnesty (2019-02-15). Mozambique: Jornalista detido impedido de receber visitas da família: Amade Abubacar. amnesty.org O jornalista Amade Abubacar foi transferido da prisą£o distrital de Macomia para a prisą£o de Mieze, no distrito de Pemba, capital da província de Cabo Delgado, em 24 de Janeiro. Desde entą£o, as autoridades prisionais tźm-lhe negado a visita de familiares. Foi-lhe permitida uma visita supervisionada de membros de uma Comissą£o da Ordem dos Advogados de Moąßambique e do seu advogado em 25 de Janeiro, no decurso da qual Amade alegou que tinha sido vítima de maus-tratos enquanto esteve em detenąßą£o militar.
stuart_m (2019-02-15). Sudan uprising: 'This is a people's revolution'. greenleft.org.au
In Sudan, a multifaceted civil opposition is posing a serious threat to the continued existence of Bashir's dictatorial regime after weeks of protests, writes Mohammed Elnaiem. | If a hospital is not a sanctuary for an injured person, what is? And what level of hatred, what kind of viciousness can be satisfied by the attempt to ensure that a protester die twice? On January 9, riot police, plain-clothed Bashir loyalists, and security forces fired tear gas and live bullets into the Omdurman Teaching Hospital in Sudan after wounded protesters were taken there during the biggest protest to date demanding the downfall...
Human Rights Watch (2019-02-15). Tunisia: Citizens Testing Right-to-Information Law. hrw.org
| | The standard form for filing a request for information under Tunisia's 2016 "Right to Access Information Law" (Law No. 2016-22). | (Tunis) — Tunisia's first freedom of information law, approaching its third anniversary, significantly advances the rights of citizens to get information from publicly funded institutions, Human Rights Watch said today. The law's real impact, however, depends on the actual authority of a body created to compel responses fro...
amnesty (2019-02-15). Further Information: Egypt: Pre-Trial Detention For Human Rights Defender: Ezzat Ghoniem and Azzoz Mahgoub. amnesty.org On 9 February, a judge ordered the pre-trial detention of human rights defender and lawyer Ezzat Ghoniem for 45 days pending investigation. Ezzat Ghoniem and Azzoz Mahgoub were detained on March 1, 2018. The court ordered their release on probation on 4 September 2018, provided they report to a police station twice a week. They were never released, and on September 14 they were forcibly disappeared by the authorities. On 20 October 2018, an arrest warrant was issued against them for not respecting the probational terms — which they could not apply as being forcibly disappeared. Ezzat Ghoniem remained forcib...
STAFF (2019-02-15). The FBI Is Dismantling Its War Crimes Unit. truthdig.com The FBI is dismantling a special unit that investigates international war crimes and hunts down war criminals — including suspected torturers and perpetrators of genocide, Reveal from The Center for Investigative Reporting has learned. | The unit, which was created a decade ago and has its roots in federal efforts to hunt Nazis living in the United States after World War II, has had a hand in many high-profile prosecutions. | Most recently, its investigators helped take down the Liberian warlord Thomas Woewiju, whom a...
Raouf Halaby (2019-02-15). 'Tiz Kosher for Elected Jewish U.S. Officials to Malign. counterpunch.org When it comes to Muslim, Arab, or Palestinian elected officials, 'tiz Kosher for elected Jewish U.S. officials (and others) to criticize, malign, denigrate, and conjure every stereotype and racist label in the by-now accepted lexicon of hateful rhetoric spewed by the Zeldins, Taubs, Gellers, Spencers, Pipes, Kings, Gaffneys, Trumps, and others. Yet, for stating the More
Human Rights Watch (2019-02-14). Egypt: Set Independent Torture Inquiry. hrw.org
| | Egyptian policemen secure Egypt's national police academy. | © 2015 AP Photo/Amr Nabil | (Beirut) — The Egyptian authorities' failure to end or impartially investigate torture and mistreatment in detention facilities reinforces an urgent need for an independent international inquiry, Human Rights Watch said today. As a party to the United Nations Convention Against Torture, Egypt should also allow the United Nations special rapporteur on torture an...
Middle East Eye (2019-02-14). Ilhan Omar's Tweet Storm: 'Criticizing AIPAC Is Not Anti-Semitic'. theantimedia.com Commentators are concerned that any criticism of Israel is now being conflated with accusations of anti-Semitism. (MEE) — It was only a matter of time before the gloves came off. Following the election of Somali-American Ilhan Omar and Palestinian-American Rashida Tlaib into the US Congress in November, the arrival of these two Muslim women in Washington has ...
Human Rights Watch (2019-02-14). DR Congo: Post-Election Killings Test New President. hrw.org
| | Police charge supporters of opposition presidential candidate Martin Fayulu who had gathered outside the constitutional court in Kinshasa, Democratic Republic of Congo, January 12, 2019. | © 2019 Tony Karumba/AFP/Getty Images) | (Kinshasa) — The Democratic Republic of Congo's new administration should demonstrate its human rights commitment by impartially investigating and prosecuting the killing of at least 10 people by security forces during...
amnesty (2019-02-13). Nigeria: Authorities must uphold human rights during and after elections. amnesty.org The Nigerian authorities must protect people from violence and ensure full respect for freedom of expression, peaceful assembly and association before, during and after the country's upcoming general election, Amnesty International said ahead of the votes scheduled for 16 February and 2 March 2019. | There have been several instances of violence at election campaign rallies in some states in recent months, including the deaths of four people in Kano state in clashes between rival political supporters in December 2018. | "The election-related violence in states such as Kano, Kwara, Kogi, Rivers, Taraba and Bayelsa...
Human Rights Watch (2019-02-13). Victim Lands Behind Bars in Tunisia. hrw.org
| Correction/Clarification: Contrary to what Human Rights Watch initially reported, the authorities arrested and prosecuted the alleged assailants along with A.F., the complainant. The court sentenced all three on February 11 to six months in prison for "sodomy" under article 230 of the penal code. It also sentenced the alleged assailants to an additional two months for robbery and violence. According to one defense lawyer, A.F. retracted his allegation of rape, both during his interrogation at the police station and during his appearance before the judge. He also deni...
amnesty (2019-02-13). Egypt steps up executions as six people put to death within two weeks. amnesty.org Egyptian authorities today hanged three prisoners convicted of killing a police officer during clashes that erupted in the weeks following the deadly Rabaa massacre. The executions brought the total number of executions in Egypt to six within a span of two weeks. | Responding to the news, Amnesty International's North Africa Campaigns Director Najia Bounaim said: | "These executions, which come just days after three other people were put to death in separate cases, mark an alarming escalation in executions so far this year. | "The death pe...
Democracy Now! (2019-02-12). Headlines for February 12, 2019. democracynow.org Negotiators Reach Tentative Border Funding Deal as Shutdown Looms, Trump and Beto O'Rourke Hold Rival Rallies in El Paso, Rep. Ilhan Omar Apologizes for Critical AIPAC Tweet, Report: 40% of Insects May Go Extinct in Near Future, Yemen: Grain Supplies at Risk of Rotting as Millions Face Famine Risk, Syria: Airstrikes in ISIS Stronghold Kill Scores of Civilians, Mexico: Veteran Radio Reporter Jesús Ramos Rodríguez Murdered, Mexico: LGBT Activist ąìscar Cazorla Found Dead, Cameroon: Hospital Arson Kills At Least 4 Amid Mounting Violence, Honduran and Nepali TPS Holders Sue Trump Administration, WSJ: Nat'l Enq...
Rachel Johnson (2019-02-11). Meet Kris Stith: The Man Behind the Graphics. naacp.org As we continue to uplift the work of African American entrepreneurs during Black History Month we would like to highlight Kristopher Stith or as he prefers, Krisa multidisciplinary artist with a predilection for design. He began his journey as an artist in Anacostia, an underserved area in Southeast Washington, D.C. using the books and materials his grandmother gave he [...]
Patrick Bond (2019-02-01). South Africa Searches for a 
Financial Parachute. zcomm.org An open, frank public discussion about the IMF's regrettable history and current agenda is sorely needed...
Last Process: 30 Citations: 2019-02-16 14:05 GMT (09:08 EST)